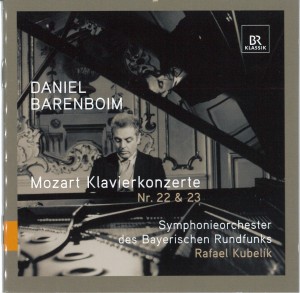 Mozart - Piano Concertos 22 & 23
Daniel Barenboim; Bavarian RSO; Rafael Kubelik
BR Klassik 900709






Mozart - Piano Concertos 20 & 27
Evgeny Kissin; Kremerata Baltica
EMI Classics 6 26645 2
Was it Anton Rubinstein who once said "Eternal sunshine thy name is Mozart?" Whoever it was would undoubtedly applaud the addition of two new Mozart piano concerto recordings to the already vast number available, performed by two pianists now considered to be among the world's greatest.
At the age of 67, Daniel Barenboim may be considered one the veterans of the concert-stage, as both pianist and conductor. His newest offering, on the BR Klassik label, features performances from the archives of concertos No.22 and 23 along with the Bavarian Radio Symphony under the direction of Rafael Kubelik. Concerto No.22, written in Vienna in 1785, is a joyful and optimistic work, and here the music is treated in a fresh and engaging manner. The tempo of the first movement, while perhaps a bit brisk, doesn't detract from the performance, while the second movement Andante and the exuberant Rondo finale constitute a perfect pairing between soloist and orchestra. Concerto No.23 from 1786, was recorded live, and once again, the fine performance is further enhanced by the excellent sound quality – clean and dynamic, it's as good as you would find today. Recorded in 1970, it's a mystery as to why it took so long to release these exemplary performances, but they were well worth the wait. This disc is a gem!
No matter what we may think of Evgeny Kissin's personal eccentricities, there is no denying that he has long been regarded as one of the finest pianists around today. This EMI recording, with concertos No.20 and 27, marks his first in a joint role of pianist/conductor along with the Kremerata Baltica. Here, Kissin, who is more renowned for his interpretations of romantic-period repertoire, proves that Mozart, too, can be treated in a more passionate manner than is usually encountered. From the opening measures of the Concerto No.20 – one of only two Mozart wrote in a minor key - Kissin easily captures the dark and forbidding mood of this tempestuous music. His approach is bold and romantic – which may not be to everyone's tastes - but Kissin makes it all sound particularly convincing. At the other end of the scale is the serene and ethereal Concerto No.27, Mozart's last. While his treatment remains romantic, he demonstrates more restraint here, in keeping with the overall mood of the piece. At all times, the Kremerata Baltica provides a sensitive accompaniment, and it would seem that Kissin is as adept at leading an ensemble as he is with performing.
Two fine recordings featuring exemplary repertoire performed by outstanding artists – it doesn't get much better than this!