Although she doesn't really do any more than her collaborators on her latest CD featuring Schubert's String Quintet and Schoenberg's Verklärte Nacht, the terrific Janine Jansen gets virtually solo credit and attention on the cover (Decca 478 3551). Her usual musical intelligence and sensitivity, however, is clearly matched by violinist Boris Brovtsyn, violists Maxim Rysanov and Amihai Grosz, and cellists Torleif Thedéen and Jens Peter Maintz. Schoenberg arranged Verklärte Nacht for string orchestra, but what a ravishing and entrancing work it is in this original sextet form. Written in 1899, well before his journey into atonality, it remains a stunningly beautiful late-Romantic work, given an exemplary performance here. The quality is just as high in the Schubert String Quintet, with impeccable balance between the voices revealing the intricate inner details with perfect clarity, and far more successfully than most ensembles. Attention to detail, never for its own sake but always with the aim of enriching the interpretation, is one of Jansen's great strengths, and her leadership here is evident. This is music-making of the highest quality, and as engrossing and satisfying a performance of this wonderful work as you could wish for.


Another of Decca's young European superstar violinists, Julia Fischer, has a new CD of the Bruch and Dvořák Violin Concertos, with David Zinman leading the Tonhalle-Orchester Zürich (Decca 478 3544). In the old LP days, the Bruch Violin Concerto in G Minor was nearly always paired with the Mendelssohn, but the Dvořák makes a surprisingly good companion. The two works were written only about 12 years apart, and share similarities in form – as indeed they do with the Mendelssohn. Fischer clearly has a great affection and affinity for the Dvořák: her mother is Czech and studied in Prague, and the concerto was one of the first that Fischer studied as a child. It's a lovely work that has never really established itself at the top of the standard repertoire. Fischer believes that this is changing; it would certainly be difficult to find a more convincing argument than the one she presents here. From the very strong opening, through the beautiful slow movement to the lively finale, this is a magnificent performance – intense, expansive, rich and warm throughout, with a lustrous tone and lovely orchestral support.
Exactly the same can be said for the beautiful performance of the Bruch, which makes this old favourite sound new and fresh.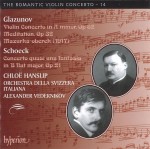 Hyperion's excellent ongoing series The Romantic Violin Concerto has reached Volume 14 with works by Alexander Glazunov and Othmar Schoeck (CDA67940); Chloë Hanslip is the soloist, with the Orchestra della Svizzera Italiana under Alexander Vedernikov. A beautiful performance of the Glazunov A Minor Concerto reminds us what a truly lovely work this is, and the short Meditation Op.32 is no less lovely despite its brevity. The Mazurka-oberek dates from 1917, when Glazunov's work as head of the Conservatory in St. Petersburg left him with little time for composition; its Polish flavour suggests that it may have been one of the small number of works written with wartime patriotic associations. The Swiss composer Schoeck is known primarily for his vocal works, and his Concerto quasi una fantasia in B flat major, Op.21 is one of the few orchestral works that he produced. Written in his early 20s, it is a work that is an appropriate and welcome addition to this Romantic series.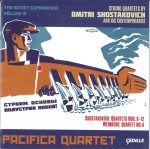 Another outstanding ongoing series is The Soviet Experience: String Quartets by Dmitri Shostakovich and his Contemporaries, which reaches Volume III with a 2-CD set of Shostakovich quartets Nos.9 through 12 paired with Mieczyslaw Weinberg's String Quartet No.6 in E minor (Cedille CDR 90000 138). The Polish-born Weinberg was a close friend of Shostakovich, and both composers influenced each other in their quartet writing. Weinberg's quartet, one of a series of seventeen, was written in 1946 but never performed; it was briefly included on the list of "non-recommended" works produced in 1948 as part of Andrei Zhdanov's anti-formalist campaign. Not published until 1979, it was apparently premiered as late as 2007.
The Pacifica Quartet is once again in simply superb form, playing these intensely personal works with sensitivity and passion and a wonderfully expressive range of dynamics.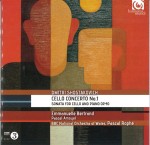 Shostakovich is the featured composer on a new harmonia mundi CD from the French cellist Emmanuelle Bertrand, who gives a solid, committed performance of the Cello Concerto No.1 with the BBC National Orchestra of Wales under Pascal Rophé (HMC 902142). Bertrand is joined by her regular piano partner Pascal Amoyel for an excellent performance of the Cello Sonata Op.40, written just 2 years before the devastating 1936 attack on the composer and his music in the Pravda newspaper, and of the Moderato, a short piece found in manuscript some year's after the composer's death, and which may possibly be contemporaneous with the sonata itself.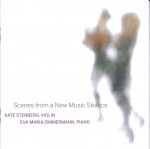 Other Minds is a non-profit organization in San Francisco dedicated to promoting the work of contemporary composers. For the past 20 years they have produced an annual festival where the composers are in attendance, and a few years ago had the idea of a short series of concerts that would present contemporary works alongside works by the now deceased American composers who had influenced the current generation. As the intention was to summon "the spectres of musical forbears" the series was called A New Music Séance; among the performers were violinist Kate Stenberg and pianist Eva-Maria Zimmermann. The resulting CD Scenes from a New Music Séance (Other Minds OM 1019-2) is the recording debut of the duo, and presents a fascinating program. Works by composers no longer with us are: Josef Matthias Hauer's Jazz, the fifth of his Fünf Stücke für Violine und Klavier; Henry Cowell's Ballade; Ruth Crawford's Violin Sonata; George Antheil's stunning Sonata No.2 for Violin, Piano and Drums, a fascinating and exhilarating single-movement romp through a whole range of American popular songs and styles; Alan Hovhaness' Khirgiz Suite; and Henning Christiansen's Den Arkadiske. Works by current composers are Canadian Ronald Bruce Smith's Tombeau, Charles Amirkhanian's Rippling the Lamp, Pelle Gudmundsen-Holmgreen's Double and Amy X Neuburg's Nonette. Stenberg and Zimmermann handle the wide range of styles and techniques with consummate ease.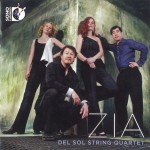 Kate Stenberg is also the first violinist of the Del Sol String Quartet, an ensemble based in San Francisco and dedicated to breaking musical boundaries. Named for the sun, the group gave their first concert 20 years ago in New Mexico, where the sun is sacred to the Zia Indians of the region. The quartet's new CD release is called ZIA (Sono Luminus DSL-92164), and features five works by contemporary composers. Gabriela Lena Frank's Leyendas: An Andean Walkabout takes Andean folk music traditions as its inspiration; the composer has travelled extensively in South America, studying not only music but also poetry and legends (leyendas). There are some fascinating effects here, especially when Andean folk instruments are being evoked. Lou Harrison, who died at 85 in 2003, is represented by his String Quartet Set from 1979, which was dedicated to our own Robert Aitken and New Music Concerts. It's a decided mixture of five short pieces with quite different characters. Spain's José Evangelista has been based in Montreal since the 1970s. His Spanish Garland, 12 Folk Melodies from Spain dates from 1993; the melodies used are predominantly very old, and have a distinct middle-Eastern flavour and character to them. The Iranian composer Reza Vali has been on the School of Music faculty at Pittsburgh's Carnegie Mellon University since 1988. All of the musical material in his Nayshâboorák (Calligraphy No.6) is derived from traditional Persian music. Its use of quarter-tones and precise intervallic degrees makes for challenging but highly distinctive music. Born in Uzbekistan, Elena Kats-Chernin has been resident in Australia since 1994. Her Fast Blue Village 2 is a short moto perpetuo with a 5-beat rhythm. The playing throughout a varied and often technically challenging program is of a very high standard, and the music is always engaging. Perhaps the clue lies in the comment in the booklet notes that the Del Sol Quartet "commissions and performs accessible new music…" (my italics). Certainly there is much to enjoy here.