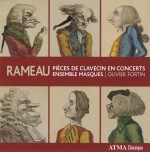 Rameau - Pieces de clavecin en concerts
Ensemble Masques; Olivier Fortin
ATMA ACD2 2624
No, Jean-Philippe Rameau was not a sympathetic man. He was a misanthropic individual who lost no opportunity to start arguments with Jean-Jacques Rousseau during the heated discussions on the merits of French versus Italian opera.
From its very first tracks, La Pantomine and L'indiscrète, this is mercifully not apparent on this CD. Both display the virtuoso techniques of the baroque harpsichordist, in particular that French operatic style which Rameau came above all others to dominate.
There is an element of caricature to most of the sixteen movements in the collection. Speculation about the intended target - if any - for La Laborde remains to this day, but it is still a highly charming if eccentric composition. Possibly composed, one pundit says, to honour the inventor of an electric piano in 1759...
Of course, the Pièces de clavecin are not just about the harpsichord. Spirited violin-playing gives L'Agaçante its name and places La Coulicam in its grand and exotic context. Measured flute-playing imparts a slightly sombre quality to La Livri, a lament on the passing of a musical patron.
To describe this CD as varied is a gross under-statement. Pieces are scored for harpsichord, strings and woodwind, for personal acquaintances of Rameau and for his musical friends - in view of his hostile opinions they could hardly be for his enemies.