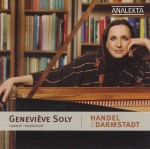 Handel in Darmstadt
Geneviève Soly
Analekta AN 2 9121
Researching the music of Christoph Graupner led Geneviève Soly to the Darmstadt Harpsichord Book, which features works by four German composers: Graupner, Handel, Telemann and Kuhnau. Twenty-nine works by Handel are found in the collection and Ms Soly performs twenty-one on this CD - plus a parody on Graupner.
Handel's Chaconne in G major receives the lively interpretation from Soly that this varied and florid piece deserves. The CD-notes - by Soly - are right to stress Handel's lyricism.
Some cynically note that Handel was England's best composer between Purcell and Elgar. The Sonata del Signor Hendel (sic), published in London in 1720, can justify this view. The second allegro and adagio are both testing pieces for any harpsichordist, the former with its two-voice structure of soprano over bass, and the latter sounding as if it were directly transcribed from organ to harpsichord.
Ms Soly adores Handel's music. As well as meeting the challenge of the adagio already mentioned, she tackles the traditional stylised Baroque dance movements (the sarabande, gigue, allemande and courante). For this reviewer, however, the really inspired playing comes in the Sonata in G major. A test on account of its complexity, its speed, and even its pure stamina, this is Geneviève Soly at her most driven.
Soly's choice of compositions by Handel is varied to say the least. A traditional German air and variations make up eight of the tracks - Handel at his jolliest. There is even what appears to be a parody of Graupner by Handel, a marche en rondeau.
At the age of eight, Ms Soly knew she would become a performer of classical music. How grateful we are for her ambition.