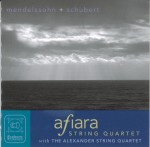 Mendelssohn - Schubert
Afiara String Quartet;
Alexander String Quartet
Foghorn Records CD 1995
(www.afiara.com)
A debut CD is something like a "rookie year" hockey card. It makes you wonder where the talent behind it will ultimately end up – in stardom or in obscurity? Based on this disc, I'm prepared to go out on a sturdy limb and predict a bright future for the Afiara String Quartet.
In case you don't know, the Afiara Quartet is a young group of Canadians: Valerie Li and Yuri Cho, violins; David Samuel, viola; and Adrian Fung, cello. From 2006 to 2009 the quartet had a residency at San Francisco State University (where they studied with the Alexander Quartet), and they were recently named the graduate quartet-in-residence at the Juilliard School.
For their debut disc, this young group has chosen to perform works by two composers in their teens and early 20s (indeed, neither composer ever got to be very old): Mendelssohn's Quartet in A Minor Op. 13, Schubert's Quartettensatz in C Minor D. 703, and Mendelssohn's Octet Op. 20, written when the composer was just 16.
In this clearly recorded CD, the Afiaras have tapped into the youthful vitality displayed in these scores. Tone is bright and tempos are perky; intonation and balance are excellent. As well, in the more introspective passages (such as the second movement of the Quartet in A minor) playing is delicate yet warm.
In the Octet, the Afiaras are joined by their mentors, the Alexander Quartet, and the two groups merge seamlessly into one glorious ensemble. This is exciting playing – a rich performance that does full justice to Mendelssohn's youthful masterpiece.

Editor's Note: At a recent Mooredale Concert where they performed with renowned flutist Robert Aitken, the Afiara Quartet was presented with the $25,000 2010 Young Canadian Musicians Award. The quartet will return to Mooredale Concerts on October 31 to perform with co-winner of the award, pianist Wonny Song.