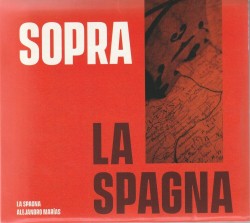 Sopra La Spagna
La Spagna; Alejandro Marías
Lukos Records 5451CRE201665 (laspagna.es)
Ambitious is perhaps the best word to describe this CD. The mass Agnus Dei was set to many tunes. One of them was the already very well-known Basse Danse La Spagna which subsequently became a setting for Agnus Dei throughout Europe. The ensemble on this CD has even taken La Spagna as its own name. In addition, it has sought to record here as many versions of La Spagna as it can find.
Sometimes the settings are complex. It needs a composer of the calibre of Francesco Canova da Milano to write a complex lute variant, and yet sometimes there is a lively – very lively – simplicity, as in Francisco de la Torre's version. In the latter all but one of La Spagna's seven musicians perform, accompanied not least by the pronounced percussion-playing of Daniel Garay.
This contrast between the intense and the spirited is borne out in the suite of six Recercadas sobre la Spagna by Diego Ortiz. Alejandro Marías digs deep into his command of the viola da gamba to interpret these demanding settings.
La Spagna have been painstaking in their research. They have even uncovered A Spanish Humour, set by Tobias Hume. Hume must have been highly skillful in his talents; he had to be in one of them as he served as a mercenary! Which might account for the explosive introductory bars of his variation...
It is very difficult to decide which setting of La Spagna is the most thoughtful or the most uplifting. If I had to choose, it would be that by de la Torre, with its loyalty to the intense quality of this sacred composition.