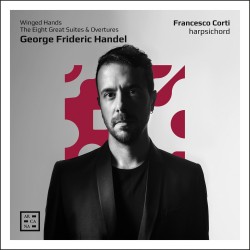 Handel – Winged Hands, The Eight Great Suites and Overtures
Francesco Corti
Arcana A499 (naxosdirect.com/search/a499)
Interpretations of Handel's Eight Great Suites have long been popular – and frequently recorded on either piano or harpsichord. The choice of instrument was made for Francesco Corti as his whole career has been with the latter. And it is his virtuoso playing which is showcased on this CD.
Note from the beginning of the Gigue in the first Great Suite; a gigue may be written off as a whimsical moment casually tacked onto a supposedly more serious set of movements but in this case Corti breathes dedication and meaning into his performance.
There are 39 movements to the Great Suites. Selecting those that most bring out Corti's mastery of the harpsichord is difficult. I thoroughly enjoyed his interpretation of No 6. There is a real dignity to his Presto, contrasted by the concluding Gigue.
Corti's demonstrated mastery is not confined to the suites however. The Ouverture [largo] to Rodelinda commences – and ends – with his imparting a glissando flourish which bookends Handel's Presto and Adagio, themselves played with real spirit.
Finally, Babell's First Set in F Major gives an all-too-tantalizing glimpse into those all-too-many composers who flourished in Handel's time but were overshadowed by him.
This is the third recording of the Great Suites I have reviewed for The WholeNote. Conti's interpretation exemplifies why I will never tire of this Handel masterpiece.