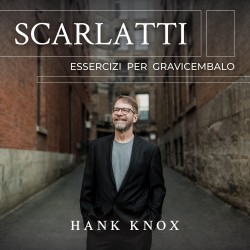 Scarlatti – Essercizi Per Gravicembalo
Hank Knox
Leaf Music LM248 (leaf-music.ca)
Hank Knox has used the lockdown period very fruitfully. He spent ten months immersed in this, the only authorized publication by Domenico Scarlatti and, to its credit, one that has remained in print since it was published in 1739. Essercizi per gravicembalo is accurately translated as Exercises for harpsichord, underpinned by Hank Knox's choice of a harpsichord after the Dulcken family of Flemish harpsichord makers.
From the start, the combination of Scarlatti's very lively composing, its consequently demanding playing techniques and the brilliance of Knox, create a solo harpsichord masterpiece. For example, in its complexity the Sonata in A Minor (track 3) is reminiscent of everything J S Bach could create. Perhaps Scarlatti and Bach learned by listening to each other's works.
Even the longest sonatas, such as that in G Major (track 13) do not let up in their demands on the harpsichordist. This is especially true of the significantly longer second CD. Here, the Sonata in D Major (track 29) continues to bring out the best in Knox.
It is rare to find a collection of pieces so consistent throughout. Consequently, the sheer consistent joyfulness and exhilaration of these 30 Sonatas mean it is difficult to isolate any particular one as being superior to the others; we are spoiled for choice.
Born in 1685, along with Handel and Bach, Scarlatti is by far the least recognized composer of these three greats. The virtuosic exuberance of his Essercizi in this rendering makes a strong case for diminishing the recognition gap.