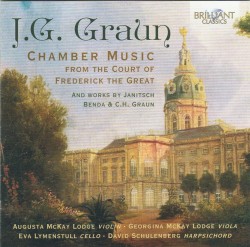 G. Graun – Chamber Music from the Court of Frederick the Great
Augusta McKay Lodge; Georgina McKay Lodge; Eva Lymenstull; David Schulenberg
Brilliant Classics BRI96289 (naxosdirect.com/search/bri96289)
Frederick the Great's patronage of classical musicians is well known; Frederick was himself an accomplished player and composer. Surprisingly, several of these composers did not perform before the King and are therefore less well known than they should be. This CD seeks reversal of the situation.
A comment is made in the CD notes that the pieces bridge a gap between Baroque and mainstream classical music. This is borne out in Janitsch's Allegretto which possesses a liveliness worthy of Mozart or Haydn. When it comes to Johann Gottlieb, the slightly older Graun brother, we are treated to a highly spirited Allegro scherzando from violinist Augusta McKay Lodge, echoed literally by David Schulenberg's harpsichord playing before all instruments proceed to a real virtuoso performance of which J. S. Bach would have been proud.
It is Bach's oldest son Wilhelm Friedemann who tutored one of the stars of this CD, Franz Benda. Benda's Sonata for viola brings out the best of Georgina McKay Lodge's playing. Listen, for example, to her stately and measured approach to the Adagio. Benda, in fact, moved in exalted circles, being a pupil of Wilhelm Friedemann but also having as patron one Sarah Levy, great-aunt of Felix Mendelssohn. And yet it is the Grauns who dominate the CD. Johann Gottlieb's Trio sonata in A showcases the string playing of both McKay Lodges. All in all, this well-chosen collection demonstrates the tremendous array of talented composers Frederick the Great attracted – which paved the way for Haydn and Mozart.