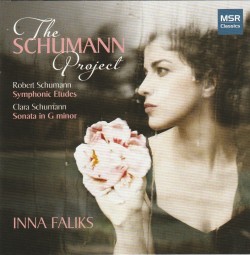 The Schumann Project: Robert – Symphonic Etudes; Clara – Sonata in G Minor
Inna Faliks
MSR Classics MS 1763 (msrcd.com)
Reimagine: Beethoven & Ravel
Inna Faliks
Navona Records nv6352 (navonarecords.com/catalog/nv6352)
The name Inna Faliks may not seem familiar to music lovers today, but the credentials of this Ukrainian-born American pianist are impressive indeed. Currently head of the piano department at UCLA, Faliks has made a name for herself both as a performer and pedagogue, and has appeared in concert throughout the world including a tour of China in 2016.The recording, titled The Schuman Project, is the first in a series designed to juxtapose the music of Robert Schumann with that of his wife Clara, who for too long has had the unfortunate reputation as "a pianist who also composed."
The 19th century wasn't kind to women composers (or any women involved in the creative arts) and Clara was no exception. Her Piano Sonata in G Minor, which opens the disc, was an early work dating from 1841 when she was all of 22. It was composed specifically for Robert and despite her youth, there is much to admire here including solid construction and fine thematic development among the four movements. Faliks approaches the unfamiliar score with a clear understanding of the music, delivering a compelling and heartfelt performance.
Schumann's renowned Symphonic Etudes were begun in 1834 and have long been regarded as one of the most challenging of his large-scale piano works. Faliks easily proves her grasp of the material, rising to all the technical demands. But she is no mere technician – at all times her phrasing is carefully articulated and, beginning with the mysterious opening theme, her performance is a captivating musical journey right through to the jubilant finale.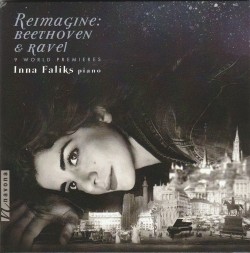 Faliks turns her attention to very different material in the disc Reimagine: Beethoven and Ravel. Here she focuses on putting a new "spin" on standard repertoire, in this case, the Beethoven set of Bagatelles Op.126 and Ravel's suite Gaspard de la Nuit. These were used as a basis for new compositions by modern composers such as Peter Golub, Tamir Hendelman and Richard Danielpour. Just as the Beethoven set is a study in contrasts, so are the reinterpretations. For example, the mood of the Bagatelle by Golub based on the first in the Beethoven set is pensive and contemplative, closely following that of the original, while Ian Krouse's Etude 2a based on the second is a true perpetuum mobile. For whatever reason, Faliks didn't include any original movements from the Ravel suite, but pieces such as Variations on a Spell by Paola Prestini are an evocative reimagining of Ondine.
These are fine recordings demonstrating two sides of a gifted artist – and recorded during a pandemic no less. We can hope to hear more from Inna Faliks in the future.