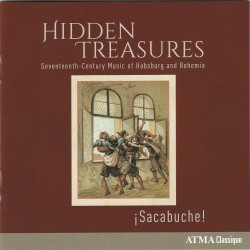 Hidden Treasures – 17th-Century Music of Habsburg and Bohemia
¡Sacabuche!
ATMA ACD2 2798 (atmaclassique.com/en)
This is something new. We are aware of the talented and sometimes prodigious output of Austrian composers such as Haydn or Mozart but their predecessors are all but unknown. Enter ¡Sacabuche! For 15 years under the direction of Baroque trombonist Linda Pearse, this Canadian ensemble has rediscovered works from Habsburg and Bohemian sources. What is more, the range of instruments such as cornettos and theorbos is particularly diverse.
Indeed, it is strident trombone playing that makes its presence immediately felt in O dulce nomen Jesu by the Viennese composer Giovanni Felice Sances. Massimiliano Neri's Sonata quarta Op.2 is even more complex, demanding an intricate playing which makes the disappearance of these pieces from mainstream music all the more puzzling.
On occasion the CD includes anonymous pieces; the eight-part Sinfonia is a vibrant full-blooded composition which any modern brass band would be proud to perform. Of course, this does not rule out vocal input as another anonymous composition Salve regina à 4 brings out the contralto contribution of Vicki St Pierre – holding her own even while outnumbered by ten instrumentalists! In fact, while most of the compositions on this CD are scored for several of these instrumentalists, St Pierre's performance of O quam suavis (again anonymous) brings a virtuoso voice to the selection.
When we consider our familiarity with the contemporary composers from say Venice, the absence of this CD's composers is very surprising. We owe much to Linda Pearse and her fellow musicians in bringing us this anthology.