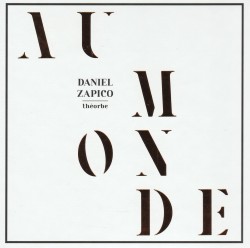 Au Monde
Daniel Zapico
Alborada editions ALB001 (alborada-editions.com)
Daniel Zapico explains that, as soon as he picked it up, the theorbo was to be his instrument. Such is his dedication to it that he takes manuscripts of compositions for inter alia harpsichord, viola da gamba and guitar and transcribes them for theorbo.
Taking inspiration from the Vaudry de Saizenay manuscript of 1699, Zapico performs pieces from six composers in Au Monde. From the start, the theorbo demonstrates capabilities in excess of its younger sister the lute, in the shape of a more resonant, mellow and deeper tone, the instrument being perfectly suited to Zapico's interpretations. Robert de Visée's Prélude brings out this very deep and resounding sonority.
Then there are the longer and more demanding compositions. Zapico selects Couperin's Les Bergeries and de Visée's Pastoralle to demonstrate his forceful technique. Contrast these with the sensitivity of Monsieur du Buisson's Plainte sur la mort de Monsieur Lambert (one of the other composers featured on this CD). This piece is complex and makes real demands on Zapico's technique.
Of course, there is always the Bourée by de Visée for a lighter enjoyment of this CD, which is sufficiently varied to show Zapico's mastery of an instrument overshadowed by the lute in popularity and ultimately by the harpsichord. Zapico's love for the theorbo is brought home by the highly complex tablature he works from – printed in copper-coloured ink to grace even further this very sumptuously presented CD.