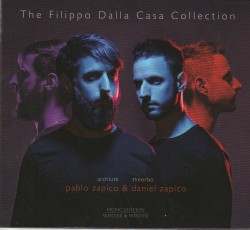 The Filippo Dalla Casa Collection
Pablo Zapico; Daniel Zapico (archlute/theorbo duet)
Winter and Winter 910 258-2 (winterandwinter.com)
Convention tells us that the theorbo and archlute were rivals of the newly emerging harpsichord before conceding defeat and disappearing. Enter Filippo Dalla Casa to dispel this illusion, for he compiled a two-volume collection of music for these two instruments dated 1759 and 1760 – several years after their supposed demise. (Even then it was not until 1811 that Dalla Casa donated his manuscript to a musical conservatory in Bologna.)
Full credit to Pablo and Daniel Zapico for playing 17 pieces from Dalla Casa's manuscript plus an anonymous sinfonia. Their enthusiasm and skill show themselves in the very first Sonata, which has come down to us anonymously. This is a lively composition of the quality associated with the archlute's earlier (and supposedly greater) days; it is followed by similarly demanding movements scored Allegro.
The anonymous composer of track 13 who composed the Largo, with its dignified cascading entrance, certainly deserves to be known to us. Contrast it with the spritely quality of Giuseppe Vaccari's two Allegro movements. Dalla Casa only lists an author for seven of the tracks on this CD; even then they are almost unknown writers – but surely one more reason why this recording is important.
This CD breaks down misconceptions. First, that the theorbo and archlute died out earlier than they did with the rise of the harpsichord. Secondly, that they were doomed to monotonous continuo parts. This CD proves otherwise.