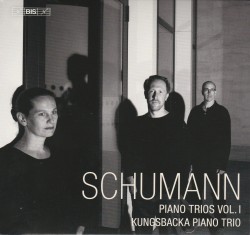 Schumann – Piano Trios Vol. 1
Kungsbacka Piano Trio
Bis BIS-2437 SACD (naxosdirect.com)
The piano trio – namely, a combination of piano, violin and cello – has a curious history with composers of historical note, many of whom either wrote very few or none at all. One may attribute such a lack of attention to the apparent balancing issues when writing for this combination of instruments. Others will mention the string quartet taking hold of composers' attention as the most favourable chamber music combination. An exception to this trend would be Haydn who wrote no less than 45 piano trios in his impressive output. Haydn aside, it remains true that the most celebrated composers in history paid little attention to this genre: Beethoven, Mozart, Brahms and Dvořák all writing less than ten. Robert Schumann belongs to this group, having written three piano trios and a Fantasiestücke (Fantasy Pieces, also with the piano trio instrumentation) in his lifetime.
In this latest release, the Swedish Kungsbacka Piano Trio has included Schumann's Piano Trios 1 and 2, and the Fantasiestücke in an impressive volume that contains masterful interpretations of these works. The Kungsbackas have earned a well-deserved international reputation since their formation in 1997. Their latest recording is an excellent example of how the ensemble continues to deliver world-class musicianship and expressiveness to listeners around the world. This recording does great justice not only to the works recorded, but to the genre itself – reminding us that this instrumental combination is indeed worthy of any composer's attention if performed by the right musicians.
The members of the Kungsbacka Trio have an impressive ability to merge their sound into a single instrument, a quality that brings a sonorous lyrical element to the music not present in other recordings of this kind. This high quality recording leaves the listener wanting more – a pleasing thought since there will be a second volume coming soon.