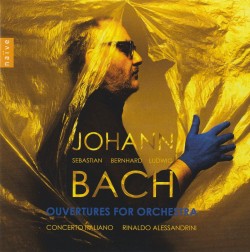 Johann Sebastian Bernard Ludwig Bach – Ouvertures for Orchestra
Concerto Italiano; Rinaldo Alessandrini
Naïve OP 30578 (naxosdirect.com)
How pleasant to explore music by relatives of Johann Sebastian Bach other than his sons. Johann Ludwig was a third cousin of Bach, Johann Bernhard a second cousin. On this CD, they each contribute an Ouverture to accompany the four by the Bach.
So is Concerto Italiano's choice justified? The works by the two cousins are substantially shorter than the great man's. Yet listening to them shows how highly enjoyable they are: listen to the Rigaudons and Gavotte en Rondeaux in Johann Bernhard's Ouverture-Suite in E Minor.
Then there is Johann Ludwig's contribution to the CD, namely, his Ouverture in G Major. This is even shorter than Johann Bernhard's work but much more spritely. The movements all ask to be danced to, whether or not they actually were at the time. Indeed the Ouverture by Johann Ludwig could even be played as background music at any event, no matter how formal.
And so to the four Orchestral Suites by Johann Sebastian. From the movement which opens the CDs (the Ouverture to the Orchestral Suite No.3) there is a complexity to Bach's composition which marks him out for the composer he was. Real demands are made on the string-players, an aspect repeated throughout the four Suites. It is quite clear that by Bach's time the movements named after French country dances were well advanced from their original rural simplicity.
Although his own writing shines through on these CDs, the sleeve-notes state how much Johann Sebastian respected his two cousins. The beautiful pieces selected by Concerto Italiano and their sheer vivaciousness demonstrate why.