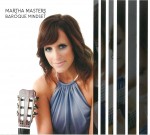 How I've managed to miss the playing of guitarist Martha Masters is beyond me; she won the 2000 International Competition of the Guitar Foundation of America (of which she is currently president) and has issued five CDs. Her latest, Baroque Mindset (marthamasters.com) is an absolutely faultless and quite stunning recital of transcriptions of original violin and lute solo compositions by four exact contemporaries of the Baroque era: Georg Philipp Telemann (1681-1767); J. S. Bach (1685-1750); David Kellner (1670-1748); and Sylvius Leopold Weiss (1687-1750).
Telemann is represented by Fantasias I & III from his 12 Fantasias for solo violin; Bach by the Sonata No.3 in C Major BWV1005 for solo violin; Kellner by three pieces selected by Masters; and Weiss by the Fantasia and Passacaglia for lute. Everything here, from both a technical and artistic viewpoint is of the highest level – clarity, articulation, tonal warmth and colour, phrasing, dynamics and sense of line; are all superb.
It's a simply outstanding CD.
Concert Note: October 19 the Guitar Society of Toronto presents Martha Masters at St. Andrew's Church, 73 Simcoe St., Toronto.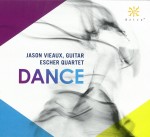 The guitar is just one of five instruments on Dance, a CD of chamber music featuring guitarist Jason Vieaux with the Escher Quartet (Azica ACD-71328 azica.com).
Mario Castelnuovo-Tedesco's Guitar Quintet Op.143 from 1951 was a result of his long collaboration with Andrés Segovia. It's a gloriously warm work that enthralls you from the opening bars and never lets go. It would be worth the price of the CD on its own, but the other two works here are anything but fillers.
100 Greatest Dance Hits from 1993, with its sounds of the 1970s, certainly shows the lighter side of Aaron Jay Kernis. Its percussive first movement is a bit jarring after the Castelnuovo-Tedesco, but the work soon establishes a delightful mood.
Boccherini's Guitar Quintet No.4 in D Major, with the famous Fandango finale ends a terrific CD. Vieaux and the Escher Quartet have been playing these works together for the best part of ten years, and their delight and sheer enjoyment in recording three of their favourite quintets is clear for all to hear.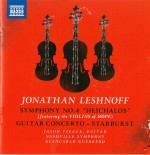 Jason Vieaux is also the soloist on a CD of works by American composer Jonathan Leshnoff (b.1973), this time the Guitar Concerto with the Nashville Symphony Orchestra under Giancarlo Guerrero (Naxos 8.559809 naxos.com). It's a really strong and attractive work, idiomatic and much in the style of the great Spanish concertos.
The concerto is the centrepiece on a CD of world premiere recordings, the two-part Symphony No.4 "Heichalos" from 2017 opening the disc and the dazzling orchestral tour-de-force Starburst from 2010 closing it, both works strongly tonal and with more than a hint of Samuel Barber in their sound.
Really top-notch performances and recording quality make for a compelling CD.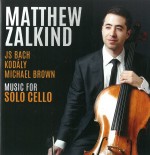 The American cellist Matthew Zalkind makes an outstanding solo CD debut with Music for Solo Cello (Avie AV2406 naxosdirect.com), featuring Bach's Suite No.6 in D Major BWV1012, the Suite for Solo Cello by New York composer Michael Brown (born 1987) and the monumental Sonata for Solo Cello Op.8 by Zoltán Kodály.
The Bach Suite is believed to have been written for a five-string piccolo cello, but Zalkind uses a conventional modern four-string instrument and set-up. The awkward challenges this presents never impact on Zalkind's warmth and fine sense of dance rhythm.
The Brown Suite is relatively short and, having apparently been influenced by both other works, makes a fitting bridge to a stunning performance of Kodály's magnificent Sonata.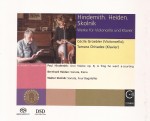 Swiss cellist Cécile Grüebler's first CD – one on which she wanted to tell a story and not simply play pieces – sprang from a chance meeting in New York in 2017 with the Manhattan-based American composer Walter Skolnik (born 1934). When the two played music together, Grüebler learned that Skolnik's principal teacher, the German-American Bernhard Heiden (1910-2000) had in turn studied with Hindemith. The result is Hindemith. Heiden. Skolnik, an intriguing CD of works by all three composers, with Grüebler accompanied by her longtime duo partner, pianist Tamara Chitadze (Cybele SACD 361804 cybele.de).
The Hindemith works are Drei Stücke Op.8 (1917) and A frog he went a-courting – Variations on an old English Nursery Song (1941). Heiden, who was born in Frankfurt and immigrated to the United States in 1938 is represented by his Cello Sonata (1958) and the short Siena (1961), while the works by Skolnik, who studied with Heiden at Indiana University, are the Cello Sonata (2004) and Four Bagatelles (1998). Grüebler's commitment to the project results in excellent performances of some little-known works.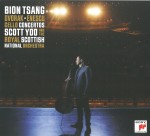 Bion Tsang is the excellent soloist in the interesting pairing of Dvořák & Enescu Cello Concertos with Scott Yoo conducting the Royal Scottish National Orchestra (Sony Classical S80459C biontsang.com).
There's no booklet and a complete lack of bio or program notes, but the infrequently heard two-movement Symphonie Concertante Op.8 by Georges Enescu is an appropriate partner for the more famous Dvořák Concerto in B Minor Op.104 – it's in the same key and was written in 1901, a mere six years after the Dvořák, when Enescu was just 20. Both works are given lovely performances.
South-African cellist Peter Martens is the soloist in Vieuxtemps & Saint-Saëns Cello Concertos, with the Cape Town Philharmonic Orchestra under Bernhard Gueller (Cello Classics CC1033 celloclassics.com).
Connections abound in this recording project. Both concertos are No.1 in A Minor – Op.46 for Vieuxtemps and Op.33 for Saint-Saëns; both composers also wrote a second, less successful cello concerto. The Saint-Saëns was the first concerto Martens played with an orchestra – the Cape Town Philharmonic in its previous incarnation as the Cape Town Symphony. Conductor Gueller was a front-desk cellist in the celebrated recording of the Vieuxtemps concertos by Heinrich Schiff, with whom Martens had a masterclass while a student in Salzburg.
Marten's decision to pair the concertos instead of recording two by Vieuxtemps feels absolutely right, as does his choice of the three fillers on the disc: two by Saint-Saëns – his Allegro appassionato Op.43 and, in Paul Vidal's arrangement, The Swan; and Fauré's Elégie Op.24 in the composer's own orchestration.
Martens is terrific in the two extremely virtuosic and difficult concertos, handling the technical challenges with deceptive ease and displaying a fine sense of line and phrase.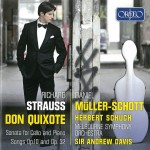 Richard Strauss left only three works for cello, and two of them are performed by the German cellist Daniel Müller-Schott on Richard Strauss Don Quixote (Orfeo C 968 191 naxos.com). Herbert Schuch is the pianist in the early Cello Sonata in F major Op.6 and in two songs transcribed by Müller-Schott specifically for this recording – Zueignung Op.10 No.1 and Ich trage meine Minne Op.32 No.1.
The sonata elicits some truly lovely playing, but the main interest here is the quasi-tone poem Don Quixote – Fantastic variations on a Knightly Theme Op.35 from 1897 when Strauss was 33 and leading the way from Romanticism to the modern era. Inspired by the Cervantes novel and recorded in live performance with the Melbourne Symphony Orchestra under Sir Andrew Davis in June 2017, it's a richly textured work lasting over 40 minutes, drawing great playing from all concerned.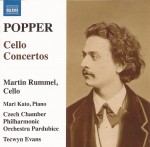 David Popper was one of the 18th century's most important cellists and a more than merely competent composer, as well as virtuoso and teacher. His four seldom-heard Cello Concertos are performed by Austrian cellist Martin Rummel with the Czech Chamber Philharmonic Orchestra Pardubice under Tecwyn Evans (Naxos 8.573930 naxos.com). Mari Kato is the accompanist in the Cello Concerto No.4 in B Minor Op.72, heard here in the version for cello and piano.
The three concertos No.1 in D Minor Op.8, No.2 in E Minor Op.24 and the single-movement No.3 in G major Op.59 are all delightful works, stylistically exactly what you would expect from a Romantic composer who was primarily a great cellist and pedagogue. Rummel provides really lovely playing, with a singing tone and a smoothness that belies the undoubted technical difficulties.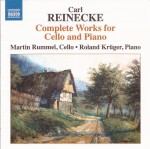 Martin Rummel is also the soloist, this time with pianist Roland Krüger, on another excellent Naxos disc, the Complete Works for Cello and Piano by Popper's exact contemporary, the German Carl Reinecke (Naxos 8.573727 naxos.com).
Rummel brings the same idiomatic Romantic styling to the three Cello Sonatas – No.1 in A Minor Op.42 (1855), No.2 in D Major Op.89 (1866) and No.3 in G major Op.238 (1897) – and the Three Pieces Op.146 from 1893. Tully Potter's booklet essay notes the "technical skill and easy flow of melody" in Reinecke's cello music, with the cello and piano clearly on an equal footing.
Outstanding playing coupled with the usual top-notch Naxos production standards make for a terrific CD.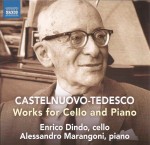 Another Naxos CD explores Works for Cello and Piano by Mario Castelnuovo-Tedesco with the Italian duo of cellist Enrico Dindo and pianist Alessandro Marangoni (Naxos 8.573881 naxos.com).
The selected pieces cover the period 1927-1946, the main works being the Cello Sonata Op.50 (1928), I nottmbuli (Variazioni fantastiche) Op.47 (1927), the Toccata Op.83 (1935) and, in a world-premiere recording, the Sonatina Op.130 from 1946. Four short pieces, including the unpublished Kol Nidre "Meditation" (1941) complete the CD.
There's fine playing throughout a beautifully recorded disc, with the virtuoso piano part reflecting the composer's own pianistic skills.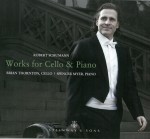 Cleveland Orchestra cellist Brian Thornton is the cellist and Spencer Myer the pianist on Robert Schumann Works for Cello & Piano on the Steinway & Sons label which was founded in 2010 (Steinway 30117 steinway.com).
Thornton has a deep, warm and velvety tone in the Adagio and Allegro Op.70, the Fünf Stücke im Volkston Op.102 and the Fantasiestücke Op.73, ably partnered by Myer.
Schubert's Ave Maria D839 is a simply lovely, if somewhat unexpected, closing track.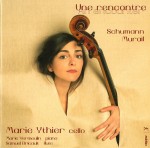 There's more Schumann cello on Une rencontre, a CD of works by Robert Schumann and the French composer Tristan Murail (born 1947), who explains his encounters with both Schumann and cellist Marie Ythier in the extensive booklet notes (Métier msv 28590 divineartrecords.com). There's a lighter and cleaner balance between Ythier and pianist Marie Vermeulin in the Fünf Stücke im Volkston Op.102 and the Fantasiestücke Op.73 than on the Steinway disc, with perhaps a touch more tonal nuance.
Attracteurs étranges (1992) and C'est un jardin secret, ma sœur, ma fiancée, une fontaine close, une source scellée from 1976 are both solo cello works by Murail; flutist Samuel Bricault joins Ythier in Murail's Une letter de Vincent (2018).
The final encounter is Murail's recent instrumental re-interpretation of Schumann's piano work Scènes d'enfants (Kinderszenen) Op.15, subtitled Une Relecture pour violoncelle, flûte et piano, Murail using a range of instrumental techniques to make the orchestration sound larger than a trio.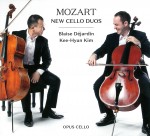 The sheet music publishing company Opus Cello was formed by Boston Symphony Orchestra principal cellist Blaise Déjardin in 2013 with the aim of bringing new, quality additions to the cello ensemble repertoire. Three works arranged by Déjardin are on Mozart New Cello Duos, the first CD release from Opus Cello (opuscello.com) and featuring Blaise Déjardin and the Parker String Quartet's cellist Kee-Hyun Kim.
The 12 Variations on "Ah, vous dirai-je Maman" K265/300e provide plenty of virtuosic fireworks as an introduction to the two Duos for Violin and Viola in G Major K423 and B-flat Major K424. There's a lovely feel to the duo transcriptions, although the lower voicings make for a slightly thicker texture at times. Still, there's really fine playing on a nicely recorded and highly enjoyable disc.