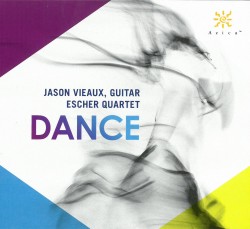 Dance
Jason Vieaux with the Escher Quartet
Azica ACD-71328 (azica.com)
Listen
Castelnuovo Tedesco II. Andante mesto
Kernis II. Salsa Pasada
Boccherini IV. Fandango
Read the Review
The following review is an excerpt from Strings Attached (October 2019) which can be read in its entirety here.
The guitar is just one of five instruments on Dance, a CD of chamber music featuring guitarist Jason Vieaux with the Escher Quartet (Azica ACD-71328 azica.com).
Mario Castelnuovo-Tedesco's Guitar Quintet Op.143 from 1951 was a result of his long collaboration with Andrés Segovia. It's a gloriously warm work that enthralls you from the opening bars and never lets go. It would be worth the price of the CD on its own, but the other two works here are anything but fillers.
100 Greatest Dance Hits from 1993, with its sounds of the 1970s, certainly shows the lighter side of Aaron Jay Kernis. Its percussive first movement is a bit jarring after the Castelnuovo-Tedesco, but the work soon establishes a delightful mood.
Boccherini's Guitar Quintet No.4 in D Major, with the famous Fandango finale ends a terrific CD. Vieaux and the Escher Quartet have been playing these works together for the best part of ten years, and their delight and sheer enjoyment in recording three of their favourite quintets is clear for all to hear.