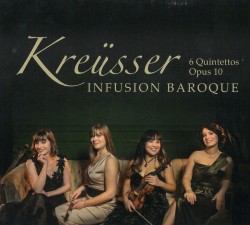 Kreüsser – 6 Quintettos Opus 10
Infusion Baroque
Leaf Music LM223 (leaf-music.ca/product/lm223/))
Thanks to the Montreal-based ensemble Infusion Baroque, Georg Anton Kreüsser (1746-1810) joins the list of composers whose works were lost to us until diligent research brought them to light. Kreüsser himself did not deserve to be lost – his music flourished in Mainz while he was konzertmeister of its Kapelle. His musical education took in Bologna and Amsterdam and it was there that he met Wolfgang, Leopold and Marianne Mozart – and the admiration was mutual as Leopold noted, which makes Kreüsser's disappearance even more surprising.
The Quintettos feature flute and the four instruments of a traditional string quartet, a rare combination as most similar works follow the flute, violin, viola, cello model of Mozart's flute quartets. It is Alexa Raine-Wright's flute-playing that dominates this CD: listen in particular to the Tempo di menuetto of the Quintetto in C Major and the lively Allegro moderato of the G Major. Strings do, for all that, enjoy considerable prominence. For example, the violin and viola playing of the Allegro moderato and Allegretto in D major are highly enjoyable.
Overall, the Quintetto in G Major is the most spirited of the six on the CD, whichever instrument is being played. For intensity and gravitas, however, the Adagietto of the E-flat Major is highly worthy of the music of this period. All in all, a spirited and successful attempt to restore Kreüsser to the ranks of 18th-century composers of note.