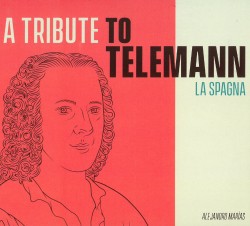 A Tribute to Telemann
La Spagna; Alejandro Marias
Lukos Records 5451CRE80843 (laspagna.es)
Describing Georg Philipp Telemann's achievements as prolific is a gross understatement: his compositions numbered over 3,000. La Spagna selects five from this enormous output, aiming to restore Telemann to the highest ranks of composers.
The first Ouverture-Suite for viola da gamba, strings and continuo is quintessentially French, comprising several traditional French Baroque movements. Telemann had access to pieces by the French composer Lully, as well as a great love for the viola da gamba (for which he composed frequently). The enthusiasm of the solo violinists who play on period, if anonymous, violins is key to this opening piece, especially the Gigue.
The Concerto for recorder, viola da gamba, strings and continuo which follows is inspired by Telemann's scoring for recorder, in this case copying an instrument by the renowned Thomas Stanesby. Listen in particular to the Dolce and Allegro as interpreted by Alvaro Marías. Though the recorder was under pressure as an instrument from the transverse flute at the time, Telemann continued to believe in its rich, sonorous sound.
In the essentially Italian Concerto grosso, La Spagna takes the liberty of writing an additional part for the second tutti (non-solo) violins. Here once again the demands of two literally lively (Vivace) movements are met cheerfully – the two solo violins absolutely sparkle.
And so to the Ouverture-Suite Burlesque de Quixotte. Telemann composes a day of events inspired by Cervantes' masterpiece, from Quixote's waking, his assault on the windmills, his advances on Princess Dulcinea and retiring for the night. The assault comprises a vigorous twirling of violins personifying Quixote's bravado; the advance's somewhat languid string-playing indicates another failure for Quixote. You begin to feel sorry for him – but invigorated by La Spagna's tribute to Telemann.