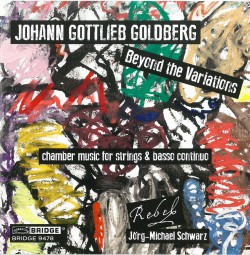 Johann Gottlieb Goldberg – Beyond the Variations
Rebel; Jörg-Michael Schwartz
Bridge Records 9478 (bridgerecords.com)
Review
Johann Gottlieb Goldberg, namesake of Bach's famous Variations, was a highly talented musician. His life (1727-1756) was tragically short, but this CD, with five of Goldberg's sonatas, shows us just what we were deprived of. Jörg-Michael Schwarz, playing a 1668 Jacobus Stainer violin, sets the scene with some beautiful playing in the Adagio of the B-flat Major Sonata. In the Allegro he is joined by Karen Marie Marmer playing a 1660 Stainer in a highly spirited Allegro. A Ciacona, at times stately and at others very lively, ends the sonata.
Goldberg's Sonata in G Minor is thoughtful and involves the basso continuo much more than in the preceding sonata. There is a richness to John Moran's cello playing in the Adagio before the violinists interpret the Allegro with a real passion and zest. The final movement of this sonata is the somewhat conventional Tempo di Menuetto.
Enter the viola of Risa Browder. The Largo in the Sonata in C Minor is indeed dignified, as the viola adds an element of complexity to the sonata. This is sustained in the cheerful Allegro and Giga.
The Sonata in A Minor features an Alla Siciliana movement, a dreamy composition which brings out both the violin playing and Goldberg's own skills as a composer. It is movements like this and the following Allegro assai which bring home what was lost to us when Goldberg died so young.
Finally, there is the Sonata in C Major with its majestic Adagio worthy of any great Baroque composer. The Gigue which concludes the sonata also concludes this CD – again, an inspired introduction to the music of someone who could have generated a lifetime of wonderful music.