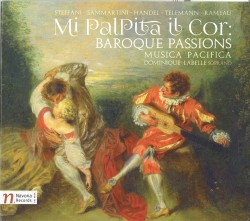 Mi PalPita il Cor: Baroque Passions
Dominique Labelle; Musica Pacifica
Navona Records NV6056
(navonarecords.com)
This is a CD devoted to love – and not necessarily happy love. The sleeve notes list the manifestation of love to be discovered on this recording as "sighs, laughter, angry outbursts and lassitude."
Venetian-born Agostino Steffani's Guardati o core opens the CD – a frolicking aria with words warning not to be won over by Cupid because you end up with trouble, sorrow and difficulty. Oh, and continue with the recitativo (you'll get immeasurable bitter pain) and the aria ("flee, then, the realm of the archer-boy") and not even Dominique Labelle's rendition can help you.
Giuseppe Sammartini was well respected for his woodwind expertise, well apparent from the dignified flourishes of his opening and more than confirmed by the first Allegro. Sammartini composed with vigour and panache. The slightly strangely specified Andante e staccato reflects a depressed lover, depressed until he or she is revived by the second Allegro.
In Handel's Arioso e recitativo, Labelle is made to sing that she "feels her heart beating for reasons she does not know." Worse, she sings in a slightly hushed, conspiratorial tone that although her heart has been pierced by one of Cupid's arrows, if Cupid could possibly do the same (fatally) to one of her competitors in love then she will complain no more. Again, very depressing, but how lucky that Labelle can fill the whole range of demanding emotions.
Georg Philipp Telemann's Quatuor No.3 (G Major, 1738) restores our spirits. Judith Linsenberg's recorder-playing contributes greatly to the rather dreamy quality of the Légèrement second movement, the Gracieusement of the third merely adding to it. For those who love rural tableaux, there is the Vite with the spirited violin playing of Elizabeth Blumenstock, and the following Gai. Finally, there is another unusually specified movement – Lentement-Vite-Lentement-Vite. Once again, violin and recorder are allowed to entertain us.
Dominique Labelle returns for a final flourish with the cantata from Jean-Philippe Rameau's Orphée. Enjoy the complex voice and violin combination in Que du bruit and several very short but poignant pieces. The last movement, En amour il est un moment, is a worthy representative of Baroque romance from instruments to lyrics to Labelle's interpretation.