Leo Zeitlin – Yiddish Songs, Chamber Music and Declamations
Rachel Calloway; Guenko Guechev; Daniella Rabbani; Pittsburgh Jewish Music Festival
Toccata Classics TOCC 0294 (toccataclassics.com)
Joachim Stutschewsky – Chamber Music
Pittsburgh Jewish Music Festival
Toccata Classics TOCC 0314 (toccataclassics.com)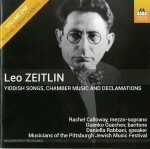 The Pittsburgh Jewish Music Festival (PJMF), in conjunction with Toccata Classics (an independent British label dedicated to producing recordings of first-rate yet overlooked classical music), has undertaken an ambitious and honourable project: releasing a series of CDs focussing on the largely forgotten and neglected music of members and composers affiliated with the St. Petersburg Society for Jewish Folk Music. As PJMF founder and director (and the CDs' producer), cellist Aron Zelkowicz, explains in a delightful radio interview he gave this past July on WQED's Voice of the Arts – and as noted in the meticulously researched booklet accompanying each volume – the Society, which operated between 1908 and 1918, sought to elevate the music of the shtetl – klezmer, liturgical, cantorial, religious songs in Yiddish and Hebrew – to the highest level of Jewish art music, by creating scores, hosting symposiums, lectures and concerts, and most critically, publishing the works (about 80) of its affiliates.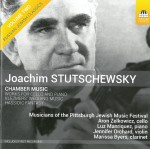 Russian Jewish Classics, Volumes One and Two, are the PJMF's first two commercial albums, and Zelkowicz promises a total of "at least" five in the series, to be released gradually over the next few years. Each album features the music of a single composer. Volume One offers a rich variety of works by Leo Zeitlin (1884-1930), a violinist, violist, conductor, arranger, impresario and teacher, who studied with Rimsky-Korsakov and Glazunov. Volume Two explores the compelling chamber music of musicologist, arranger, pedagogue and cellist, Joachim Stutschewsky (1891-1982). The exhaustive notes in the aforementioned booklets provide a comprehensive biography of each composer.
With the limited space available, it's not possible to do justice to the impressive breadth and depth of the music presented on each CD. Clearly, though, Zelkowicz's assemblage of accomplished musicians (all members of esteemed orchestras and university music departments, who performed the music both live at the PJMF and in the studio recordings), executes this haunting, evocative, melodic, joyous, plaintive, gorgeous and freilach music with tremendous passion and intelligence. From Guenko Guechev and Daniella Rabbani's dramatic recitations in Zeitlin's unique "declamations" – affecting piano music underscoring spoken Yiddish and Russian poetry (once a popular genre) – and mezzo Rachel Calloway's glorious interpretations of several of his Yiddish songs in various arrangements, to the masterful performances, by the musicians of the PJMF, of the rhapsodic and sophisticated chamber works of Stutschewsky, these CDs represent a wealth of material that demands renewed exploration and attention, attention it once commanded, briefly, in a bygone age.
I look forward to the rest of the series, and say "Bravo" and "Mazel Tov" to Zelkowicz, the PJMF and Toccata Classics.