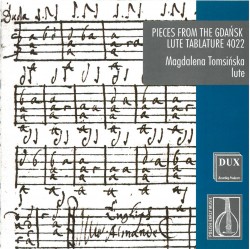 Pieces from the Gdańsk Lute Tablature 4022
Magdalena Tomsińska
Dux DUX 1150 (dux.pl)
The collapse of the Berlin Wall led to the discovery of a lute tablature of Gdańsk dated 1620. It emerged in the East Berlin library service, having been believed lost for 45 years. Some of the 222 pieces in the tablature had their titles and composers literally trimmed off by zealous officials; their attribution has, however, been deduced by Magdalena Tomsińska herself, who scoured many more lute collections to identify several of the pieces played here. The key composer is Frenchman Robert Ballard; some of his courantes and balletti are featured on the CD.
And so to Tomsińska's choices (32 tracks in 58 minutes). Her balletti are played with a skill and clarity worthy of any concert hall recital. Note, indeed, Balletto Polachos 3, 4 and 30 both for their vigour and the pleasure which the performer imparts.
By far the majority of Tomsińska's choices are anonymous and one gets the impression they were taken from street fairs and theatres and transcribed directly for lute. This must surely be true of the boisterous Ungaro and Be Merry, which Tomsińska takes in her stride. Her choice also extends to the English dancing tune Nutmegs and Ginger – reflecting the pan-European nature of the original tablature.
By contrast, there are eight pieces for whom composers are attributed, five to Robert Ballard and one each to Alessandro Piccinini, John Sturt and Gregory Huwet. These are played with a certain solemnity compared to the more popular anonymous pieces but Tomsińska puts her heart into all of them, as she does with the longest piece, Monycha. This is demanding but, once again, Tomsińska shows with her inspired playing why her anthology deserves to be bought – and not just by early-music enthusiasts. Buy it if it is the only lute recital you buy this year.