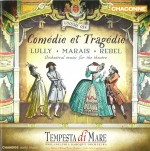 Comedie et Tragedie Vol.1
Tempesta di Mare Philadelphia Baroque Orchestra
Chaconne CHAN 0805
Louis XIV's cultural offensive involved the arrival of Giovanni-Battista Lulli, duly converted to Jean-Baptiste Lully. Lully then became director of the Petite Bande of string musicians. Combine Lully's genius for composition with Molière's brilliant social satire Le Bourgeois Gentilhomme and you have a magnificent comédie-ballet.
Tempesta di Mare's interpretation of the overture to the comedy gives a flavour of what to expect; a rather clumsy and pompous nature admirably reflects Molière's social climber Monsieur Jourdain. By contrast, the real dancers enjoy Lully's graceful country dances in their 17th-century French heyday. Add to this the slightly oriental quality of the Cérémonie des Turcs and you realize how suited to each other Molière's words and Lully's music truly were.
On to Les Éléments by Jean-Féry Rebel (a pupil of Lully) who won great respect for his dance music. Le Chaos started life as an instrumental piece but was incorporated into the ballet. It is not what one expects from a baroque entertainment. Parts for bass, flutes, piccolos and violins represent respectively earthly tremors, the flow of water, air and fire. All attempt to impose themselves vigorously on the ballet and to be distinctive from one another. More soothing is the following Loure-Chaconne; earth and water are reconciled before we hear Rebel's sprightly interpretations of traditional dance movements.
Marin Marais is best known as a bass viol composer, his prowess enabling him to come to the attention of, yes, Lully. Alcyone is a classically themed opera comprising an overture and five acts. The dramatic plots in each act would unfold until interrupted by a divertissement (entertainment). The 13 suites performed by Tempesta di Mare reflect this accurately whether with the stately prologue: ouverture or the relaxed airs for a whole sequence of characters such as sailors, magicians and priestesses of Juno. Enjoy above all the sarabande, tempest and concluding chaconne.
After listening to both Lully and Marais, listeners will have received a textbook introduction to the French baroque music which enhanced comedy and tragedy alike.