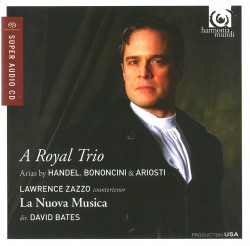 A Royal Trio – Arias by Handel, Bononcini & Ariosti
Lawrence Zazzo; La Nuova Musica; David Bates
Harmonia Mundi HMU 807590
In 1719, Handel had been told by the newly established Royal Academy of Music in London to recruit a company of singers, of the calibre of the castrato Senesino. Such singers were the mainstay of the Academy, as were Handel and the Milanese cellist and composer Giovanni Bononcini.
Add a third composer Attilio Ariosti of Bologna, and you have an operatic power house in London which, along with Lawrence Zazzo's genius as a countertenor, is the inspiration for this CD. Indeed, Zazzo's skills as a countertenor are immediately displayed with his vigorous interpretation of Handel's "Rompo I lacci" from Flavio. More sedate but no less intense is his performance of "Cosi stanco Pellegrino" from Bononcini's Crispo.
Handel's music features in ten of the 18 tracks on this CD, "Va tacito" from Giulio Cesare being an entirely suitable selection, not only due to Zazzo's enthusiastic performance but because of the spirited accompaniment from the woodwinds and horns of La Nuova Musica. It is a sharp contrast to the thoughtful, sighing setting of "Tanti affani" from Handel's Ottone, which follows.
Despite Handel's reputation, one of the most moving recordings on the entire CD is Ariosti's "Spirate, o iniqui marmi" from Coriolano, conveying Coriolano's anguish at his wrongful imprisonment. In this case, it is the strings which combine with Zazzo's voice to create the doleful atmosphere.
In fact, Bononcini and Handel both end the CD with a flourish, the former with "Tigre piagata" from Muzio Sevola and the latter with "Vivi, tiranno" from Rodelinda. Each piece showcases the sheer skill of Lawrence Zazzo and the demands placed on his voice.