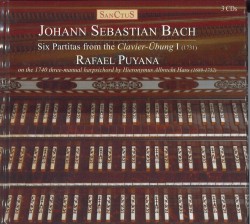 Bach – Six Partitas from Clavier-Übung I (1731)
Rafael Puyana
SanCtuS SCS-027-028-029 (sanctusrecordings.com)
Lavish is an understatement when it comes to describing the cover and booklet for this interpretation by the late Rafael Puyana of these six partitas. They are a tribute to a breathtaking odyssey in which Puyana's teacher Wanda Landowska first saw the three-manual harpsichord used in this recording – back in 1900. The instrument was acquired and painstakingly restored by Puyana, but not until 2013 was his 1985 recording made public on these CDs.
The very first Praeludium and Allemande indicate the joy and pleasure that Bach discovered when composing the partitas. Indeed, the rural background of the allemandes, courantes and sarabandes found in each of the partitas show how important this provenance was for Bach. This light quality is shared by the writer of the sleeve notes regarding the allemande: "If it is treated as being in quadruple time, the player is obliged to take it more slowly, the end result being frankly soporific. Many contemporary harpsichordists have bored us to death through over-literal interpretations…" No such anxieties here; listen to the gushing quality of the Giga or the Sinfonia which opens Partita II, not to mention the heavenly quality of the latter's Sarabande. Its concluding Capriccio is "technically fiendish to master."
Partita III demonstrates both the speed of the Corrente [sic] and the slow, stately Sarabande which immediately follows it in total contrast. The three last movements (Burlesca, Scherzo, Gigue) return the listener to the demanding complexity of Bach's composition.
Particularly testing (even in comparison with other partitas) is the overture to Partita IV, with its almost glissando effects. Everything else is sedate by comparison until the concluding Gigue places its own demands on Puyana's skills. Partita V is far more spirited, as Praeludium, Gigue and Corrente contrast with the slower Sarabande.
And finally Partita VI, starting with the only Toccata in the collection, which culminates in a complex and varied set of sequences. The subsequent movements are light but expressive. All in all, the comment in the notes is absolutely correct: Bach's six partitas were unprecedented in their virtuosity, length and intensity. They amazed contemporary harpsichordists.
Soporific and bored to death? Not with Rafael Puyana's interpretations.