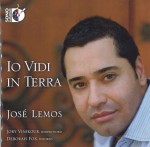 Io Vidi In Terra
José Lemos; Jory Vinikour; Deborah Fox
Sono Luminus DSL-92172
sonoluminus.com
Seventeenth-century Italy presents us with images of love, debauchery, power games, murders and ruthless ambition — but at least there were some great Italian composers around to set the romantic elements to music!
Brazilian José Lemos displays his in-depth love for Italian vocal music by selecting not only giants of the period but also lesser-known composers. It is, indeed, a less-well-known composer, Tarquinio Merula, with whom José Lemos opens his recital. His rendition of "Su la cetra amorosa" draws on a very wide range of skills as it combines an almost rushed score with a sometimes highly exhilarating one.
"Io Vidi in Terra" sets lines by Petrarch, and it is a tribute to both Marco da Gagliano and José Lemos that poetry and song of such beauty and sensitivity are to be found on this CD. Just as anguished by love's pains is "Ardo" by Benedetto Ferrari, bringing out the best in Lemos' longer notes and drawing on Vinikour's harpsichord and Deborah Fox's theorbo.
Instrumental solos feature. Spagnoletta was one of the most popular and longest-lived pieces of the entire Renaissance. Vinikour gives a spirited interpretation of Storace's complex score — the most demanding this reviewer has heard. And for good measure there is the exuberant Balletto by the same composer.
Lemos starts and finishes his recital with songs by Merula, who deserves to be better known. Listening to this choice of songs, it is easy to see why — this is a wonderful collection of early Italian baroque music.