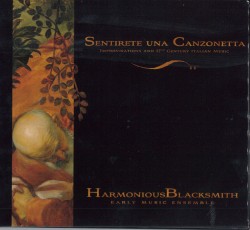 Sentirete Una Canzonetta
Harmonious Blacksmith;
directors Joseph Gascho, Justin Godoy
www.harmoniousblacksmith.com
Improvisations characterize this anthology, and they are both vocal and instrumental. Harmonious Blacksmith draws on the improvisations found in the instrumental instruction books of mid-16th century Italy. Ah Hong (soprano) brings an intense quality to Sentirete Una Canzonetta by Tarquinio Merula; the more rustic Se l'aura spira tutta vezzosa draws on Hong's vocal expertise in tandem with Justin Godoy's recorder playing — the latter well in keeping with the demands imposed on the baroque recorder by any of that era's greatest composers. This mastery is again reflected in Giovanni Battista Fontana's Sonata 3, with its hints of baroque country-dance movements.
In solo instrumental terms, Joseph Gascho's inspired harpsichord playing interprets the virtuoso quality of Girolamo Frescobaldi's Toccata 1 (Libro 2). Godoy's recorder playing in Ricercar is up to the demands of the music by Jacob van Eyck. Nicola Matteis, who died after the heyday of Italian improvisation, introduces gentility to the instrumental pieces in this compilation. More spirited, not to say impassioned, is Nika Zlatarić's cello playing in Giovanni Antonio Bertoli's Sonata 7.
Godoy's arrangement of pieces by five composers under the title More palatino is an intense and entertaining combination demonstrating just what baroque composers could bring out of their instruments — and their players. In fact, this attractive recital of baroque variations confirms that they were never confined to the harpsichord or lute.