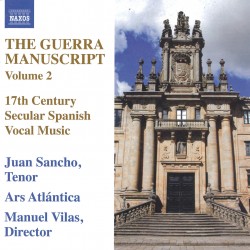 The Guerra Manuscript Volume 2: 17th Century Secular Spanish Vocal Music
Juan Sancho; Ars Atlántica; Manuel Vilas
Naxos 8.572876
The University of Santiago de Compostella's libraries are an indispensible source of information regarding Spanish music. Many tonos humanos (secular songs) were copied by José Miguel Guerra; his name is given to the Guerra manuscript. It is Ars Atlántica's aim to record all 100 of these tonos humanos.
In this recording the instruments accompanying tenor Juan Sancho comprise a two-course Spanish harp based on a 1704 original – a highly contemporary touch – and a four- and five-course pair of guitars based on originals even older than the manuscript!
From the start Juan Sancho's clear Spanish tenor voice brings the songs to life. Juan Hidalgo's Ay de mi dolor, despite its sorrowful title, places varied demands on Sancho's vocal range. This is comforted by what immediately follows, Dichoso yo que adoro, in turn benefiting from the guitar accompaniment. It was rare for instruments to be specified but harp and guitar are known to have been used frequently. As an example, Hidalgo exploited the range of both tenor and baroque harp in his La noche tenebrosa.
Many of the songs on this particular recording are of anonymous composition. Frescos airecillos with its beautiful guitar embellishments is one such example; what a shame that we do not know who composed this beautiful and expressive piece.
Among the composers who can be identified (sometimes by similar songs appearing in other manuscripts where they are attributed) are Hidalgo and José Marín. The latter exploited his talents as a tenor, composer and guitarist to write Amante, Ausente Y Triste, although the notes in this recording indicate he did not have too much time for composing, having been sentenced to exile and the galleys!
All of the songs in the Guerra manuscript will be recorded in this series – they will form a joyful and informative contribution to our knowledge of the Spanish Baroque.