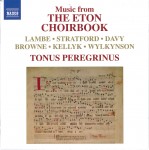 Music from the Eton Choirbook
Tonus Peregrinus
Naxos 8.572840
The Eton College Choirbook is one of pre-Reformation England's greatest glories. English composers rejoiced in their settings of music that were as joyful as the architecture in which they were performed was lofty. The Choirbook required the skins of "112 average-sized calves" to produce; none died in vain, as this recording proves.
Two composers included here, Lambe and Browne, probably had connections with Eton. Lambe's Nesciens mater a 5 is so exhilarating it could be used at any modern service — and the Choirbook likely dates from 1500!
William, Monk of Stratford, gave his Magnificat a 4 an ebullient character. Tonus Peregrinus uses 13 voices, five upper and eight lower, initially alternating but ultimately combined. Occasionally William's polyphony uses strange examples of either lost or extra beats — is the lost beat between "the rich" and "he hath sent away empty" a deliberate ploy?
A second Magnificat, by Hugh Kellyk, is not as strident as William's. It is nonetheless very demanding on the higher voices. Tonus Peregrinus' already high reputation is only enhanced by its interpretations of the Eton Choirbook.
The opening pages of Richard Davy's St. Matthew Passion have been lost. Jesus stands before Pilate and the events leading to crucifixion are recounted. Davy uses the arrangement soprano, alto, tenor, bass for both Pilate and Pilate's wife. The bass part for both characters is, perhaps strangely, sung by one singer, Nick Flower. This certainly does not detract from the sheer forcefulness of Davy's interpretation.
John Browne's Stabat mater also uses 13 voices. Emphasis is placed on the soprano voices in what is a very powerful setting; mention must be made, however, of the bass parts, which are omnipresent if somewhat overshadowed.
Naxos is celebrating its 25th anniversary this year. It describes this recording as "perhaps the jewel in the crown of its series of Milestones of Western music." Only "perhaps?"