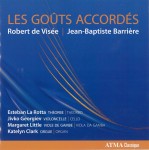 Les Gouts Accordes
Esteban La Rotta; Jivko Georgiev; Margaret Little; Katelyn Clark
ATMA ACD2 2673
Louis XIV wanted to bring ethnic cohesion to his western European mini-empire. Realising culture would play a part in this, he brought Italian-born Giovanni Battista Lulli to his court and rebranded him as Jean-Baptiste Lully. This CD brings us Lully and Robert de Visée (who actually was French-born) and others such as Jean-Baptiste Barrière who composed in the Sun King's wake.
Barrière's second and sixth trio sonatas bring out a rich resonant quality in the theorbo. This continues in the allegro movements with a part for viola da gamba which plays the spritely gigue that ends both sonatas. The theorbo is, above all, given a chance to showcase itself with de Visée's A Minor theorbo suite. Here, the incorporation of more lively dance-based movements, the gavotte and rondeau, enhance the enjoyment of the suite and Esteban La Rotta's dexterity manifests itself.
Finally, there is a theorbo solo where de Visée arranges the "Ritournelles des Fées" from Lully's opera Roland. In the hands of La Rotta the solo underlines just how versatile the theorbo was at a time when it was being challenged in every area of performance by the harpsichord. Indeed, it also demonstrates how effective the combination of Lully and de Visée was in forming a cohesive French musical tradition.