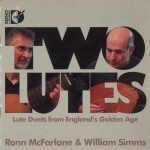 Two Lutes – Lute Duets from England's Golden Age
Ronn McFarlane; William Simms
Sono Luminus DSL-92155
Lute duets form some of the most enchanting and at the same time most demanding recitals. Imagine a selection of 27 such duets!
La Rossignal has always been a testing but satisfying example of the genre. Both lutenists bring out the disciplined yet exuberant quality of this piece; they follow immediately with the stately and measured Delight Pavan of John Johnson, 15 years Queen Elizabeth's "royal lewter."
Ronn McFarlane and William Simms have gone well beyond formal compositions by Elizabethan composers — the anonymous Robin is to the Greenwood Gone is performed with a dedication and passion which Dowland and his contemporaries would have felt honoured by.
Then there are the sadly less well-known composers. Who can listen to the complexity of John Danyel's Passemezzo Galliard and not wonder not just at the complexity of the galliard but also the performance to which we are treated? Listeners can even enjoy Thomas Robinson's Passamezzo Galliard and compare the two, notably their slow almost laboured opening bars.
Johnson it is, however, who contributes the most duets. His Chi Passa (which differs considerably from the Commedia dell'arte version normally found), Queen's Treble and Flatt Pavan and Galliard (was ever a composition so inappropriately named?) are interpreted so as to lend no doubt as to how long the players have been a duet.
This reviewer tried to make notes while listening to the duets. He was persistently but very happily prevented by the sheer pleasure of their content.