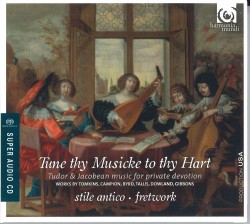 Tune thy Musicke to thy Hart
Stile antico; Fretwork
Harmonia Mundi HMU 807554
Tudor and Jacobean music for private devotion has long been neglected by early music performers. Here is a selection of composers who reveal why that neglect cannot be justified.
Stile antico rises to the sumptuous demands of Thomas Tomkins' O praise the Lord with its 12-part texture reminding us of polyphony's own past glories. Immediately afterwards Fretwork make its instrumental presence felt through its experienced viol-playing in O ye little flock by the all-but forgotten John Amner. Indeed, on occasions the deep, hollow resonance of Fretwork's playing makes one almost forget that viols are the only instruments involved: listen to Robert Parsons' second In Nomine.
Then there are the hymns that give the lie to the myth that England was a Protestant country at ease with its spirituality. Thomas Campion's Never weather-beaten sail may indeed be a prayer of relief for those surviving a voyage. It may also be a prayer of relief by the Catholic Campion for his own survival in an age when his namesake Saint Edmund Campion died a cruel death for his faith. That death, in fact, is the subject of a song by William Byrd on this very CD.
Although some might say this collection is melancholic, divine and spiritually uplifting are the fitting adjectives.