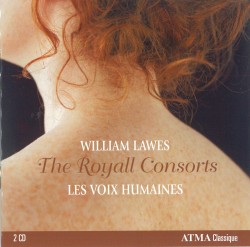 Lawes – The Royal Consorts
Les Voix Humaines
ATMA ACD2 2373
England's Civil War claimed the life of William Lawes in 1645. Charles I, to whom Lawes was extremely loyal, described him as "the Father of Music." The ten Royall Consorts date from the early 1630s, but were still being played from hand-written scores in 1680.
All ten are performed here by the seemingly limited combination of violin, viola da gamba and theorbo. And yet from the first notes it is clear that we are to be treated to compositions that display the versatile capabilities of these same instruments. The two Fantazies alone prove this.
In fact, the clear majority of the movements in the consorts are named after the stylized dance movements of the Baroque. The pieces here would hold their own among any contemporary baroque entertainment. Take, for example, the spirited violin playing in the Alman, Corant and Saraband that conclude Consort 10.
Lawes even includes a galliard and six pavans in the Royall Consorts; perhaps he or his clients felt nostalgia for the best-known renaissance dances. The delicate pavan at the start of Consort 9 tests all the musicians.
Overall, Lawes' music challenges the idea that England's Golden Age of Music ended in 1620; surely he would have greatly influenced the course of 17th century English music had he lived?