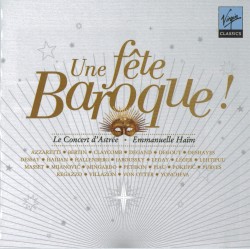 Une fête Baroque
Le Concert d'Astrée; Emannuelle Haïm
Virgin Classics 50999 730799 2 7
Le Concert d'Astrée celebrated ten years together with a commemorative event at the Théâtre des Champs Elysées last December, uniting 24 soloists in a gala fund-raising display of talents for the Gustave Roussy Foundation which seeks non-standard treatments for cancer.
Rameau is the first composer selected for the gala. Natalie Dessay and Stéphane Degout are the soloists leading the choir of savages in Rameau's Les Indes galantes; there is nothing savage about the interpretations! Anne Sofie von Otter's plaintive "Air de Phèdre" is greatly enhanced by the string-players in the song from Hippolyte et Aricie, an opera which also affords us Jaël Azzaretti as a shepherdess in "Rossignols amoureux."
This double CD should not be misinterpreted as purely a collection of intense baroque arias; Patricia Petibon's "La Folie" from the ballet-bouffon Platée and the audience's live laughter prove this.
Sometimes there are pleasant surprises in this worthy anthology. "What Power Art Thou," the "cold song" from Purcell's King Arthur, is performed by Christopher Purves to, dare one say it, chilling effect.
Handel's music dominates the second CD. Sacred and secular, his most popular operas are treated with passion by singers and instrumentalists. How better to end than with the "Hallelujah Chorus" from Handel's Messiah — with audience participation?
And there is even a rendition of Purcell's Sound the Trumpet which, I hope, would have appealed to Purcell's sense of humour!