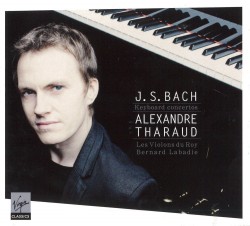 A French Soirée
Trio Settecento
Cedille CDR 90000 129
Name any truly great French baroque composer and you will find him on this CD. Trio Settecento has recorded a selection of the finest music of its type, the antidote to those jaded souls who believe baroque music all sounds the same.
The program starts with Jean-Baptiste Lully's Ballet Royal de Flore; those distinctive names that typify Lully's ballet movements are conspicuous by their presence: "Entrée pour les Jardiniers et quatre gallants" is one such. The trio may use a 1983 replica of a harpsichord, but a 1770 violin and a 1743 seven-string bass viol provide authenticity throughout the CD, not to mention the inspiration for passionate playing.
Solo music for baroque viol is personified by Marin Marais: John Mark Rozendaal imparts a playful quality to La Guitare, which is after all a joyful imitation of a joyful baroque instrument. More restrained is the Chaconne for all three players.
François Couperin is bound to feature on a compilation of this kind. Seven movements from his Troisième Concert are played. Enjoy the Courante and Muzette for their rural evocations but be moved by the Sarabande and Chaconne.
Far less well-known is Jean-Féry Rebel and a mere seven minutes can only hint at Rebel's demanding violin scores. A full CD to bring Rebel to a wider audience, Trio Settecento?
Finally, Rameau, as may be expected. Rameau's pieces here are portraits of the Commedia dell'Arte, a gossip, and even the Rameau household with its musical rehearsals and barking dog!
And if you want to hear baroque music from either Italy or Germany, the Trio has already recorded it – Italian Soujourn (sic) and German Bouquet.