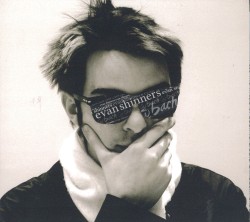 @bach
Evan Shinners
New Cull Records (www.evanshinners.com)
Evan Shinners' début recording – he graduated from Juilliard in 2010 – comprises an unedited recording of two live concerts of Bach's music. We even hear the orchestra tuning and sounds from the intermission – and there is no post-production to divert us from this interpretation.
Shinners' first piece is Bach's own first piece – the Partita in B-flat BWV825. Shinners is his own man as he plays the Allemande and Courante with an equally joyful quality and the second Minuet with the vigour of which Bach must have dreamt when he composed the work. The audience's applause affirms everything.
Improvisation is Shinners' driving force behind two Toccatas – and as he explains to his audience, he is keeping that tradition of the toccata alive. A thoughtful interpretation of the E Minor BWV914 is followed by the C Minor BWV911 with its own swift changes and heavy demands on the player. The audience was impressed.
Shinners does not shy away from including pieces which some might dismiss as being typically baroque. In fact, there is nothing stilted or restricted or confined about his interpretation of the French Suite BWV816. Shinners plays all seven movements according to the original qualities of the French dances that became stylized in the Baroque.
And so to the final work, the Concerto in D Minor BWV1052. Here we find the sheer power of the first Allegro, the pleading and almost sombre quality of the Adagio, the further vigour of the second Allegro, and Evan Shinners shining supreme.