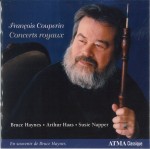 Couperin - Concerts royaux
Bruce Haynes; Arthur Haas; Susie Napper
ATMA ACD2 2168
Around 1700 Pierre Naust crafted an hautboy in Paris – it may be the earliest hautboy (forerunner of the oboe) now in private hands. In 1703 Barak Norman created a viola da gamba in London. This recording unites these two instruments in some of Couperin's concerts royaux, precisely the repertoire for which Naust's hautboy would have been played.
The recording was originally released in 1999 but one very poignant reason explains its redistribution. US/Canadian Bruce Haynes, the hautboy soloist, died this year; reintroducing the hautboy into France (!) and five books and 50 articles on early music are his legacy.
Concert 7's sarabande is the first opportunity to hear the Naust hautboy. It is both outwardly expressive and yet slightly sensitive; Couperin was well able to bring out the quality of this instrument.
In Concert 11, despite the rather stately quality of all eight movements, the standard of hautboy playing is always maintained. It is Susie Napper's mastery of the gamba which gains exposure, reinforced in her duet with harpsichordist Arthur Haas in a track from Couperin's third book of harpsichord pieces. In fact, Bruce Haynes returns with some of his most inspired playing in two musétes. Rural can only begin to describe the combination of hautboy, harpsichord and gamba as they imitate the sounds of the French bagpipe!
And then the even more varied Concert 3 (with another muzette - sic) to conclude this tribute to Bruce Haynes, and to the instrument he revived in the country of its birth.