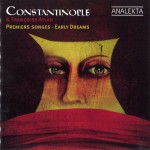 Early Dreams
Constantinople; Françoise Atlan
Analekta AN 2 9989
Constantinople has been specialising for ten years in exploring Mediterranean oral tradition and medieval musical manuscripts. A vast area in terms both musicological and geographical, not least with the export of Spanish music to the New World! And it is (very) early New World-based composers who feature here.
"Early Dreams" unites Constantinople's core of sétar, percussion and viola da gamba with a guest baroque guitarist and, above all, the voice of Françoise Atlan, herself of Judeo-Berber origin.
One must single out Detente, sombra de mi bien esquivo (based on Spagnoletta, a Renaissance "dance hit"), which brings together Ms Atlan's clear enunciation, a magnificent combination of impassioned da gamba and lute playing, and the words of Sor Juana Inés de la Cruz, the first great Latin-American poetess.
Eventually, Françoise Atlan's voice does come to dominate this CD, not only with her interpretations of baroque settings of de la Cruz's poetry but also those of modern Canadian composer Michael Oesterle. Her clarity of voice alone would make these recordings special.
One pleasant question to decide is whether Oesterle's settings or those of the Latin composers are more inspiring. But first listen to the Fandango of Mexico-based Santiago de Murcia. We speak of Spain enjoying a golden age of its music in the mid-16th century; we are only now discovering the musical legacy of Spain's conquests of Latin America.