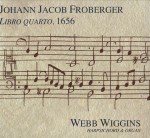 Froberger - Libro Quarto, 1656
Webb Wiggins
Friends of Music FOM 10-027.28 (www.smithsonian.org)
Johann Jacob Froberger, organist at the court of Vienna, paid very close attention to the formalities of Baroque music: Libro quarto contains six toccatas, six ricercars, and six capriccios, followed by six suites, with five based on the standard allemande, gigue, courante and sarabande. Only a lament on the death of the Austrian Crown Prince - and Webb Wiggins' own choice of organ or harpsichord as he feels appropriate – provide variation.
So how did Froberger deal with a rigidity imposed upon him by Austrian court procedures? Well, his toccatas, notably No. 4, are as testing as any by the more famous baroque composers; Froberger helped the toccata emerge from being a mere warm-up exercise.
More conservative are the ricercars played on organ; some could almost be a renaissance woodwind consort, not surprising as the organ is reconstructed on early 17th century principles. The capriccios, nearly all on organ, are taxing pieces but Webb Wiggins rises to the challenge.
And so to the suites. Wiggins breathes liveliness into Froberger's charming gigues and courantes, accompanied by a sense of feeling for the allemandes. It is difficult to select which of these twenty-four movements are the most entertaining as they are of a consistently high quality when played by Wiggins.
Travels throughout Western Europe and time with Girolamo Frescobaldi helped Froberger become a pioneer of "mainstream" baroque music; Webb Wiggins reinforces that status.