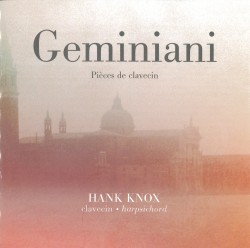 Geminiani - Pièces de clavecin
Hank Knox
early-music.com EMCCD-7772
Francesco Geminiani arrived in London in 1714; by 1739 he had published the harpsichord music from which Hank Knox makes his selection for this CD. Geminiani probably developed his individual style in Paris, learning from Rameau and others. Hank Knox introduces us to a prelude bearing the hallmarks of this individuality. From his commentary it is clear that Geminiani never rested until he had added all the complex scoring he considered necessary. His gayment and vivement movements are demanding but reward the listener and player with lively and entertaining motifs. This is Hank Knox at his most inspired.
Geminiani's tendrement movements are appropriately named with their pleading quality, although the movement marked gracieusement et tendrement is both more taxing on the player and far livelier than its two near-namesakes. And then for the more traditional lover of the harpsichord there are two minuets, the second lasting almost ten minutes – an early music eternity! This is baroque harpsichord at its most conventional and most complex.  Finally, an amoureusement shows just why Geminiani's student Charles Avison so admired his master: he placed him alongside Handel (often semi-seriously styled England's greatest composer between Purcell and Elgar) and Corelli who enjoyed cult-like status in London.
This is an enjoyable CD; Hank Knox may take a real pride in bringing Geminiani's harpsichord music to a larger audience.