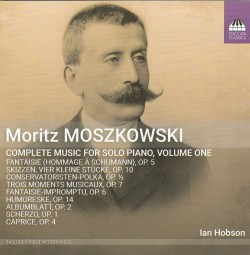 Moritz Moszkowski – Complete Music for Solo Piano Volume One
Ian Hobson
Toccata Classics TOCC 0572 (toccataclassics.com)
Moritz Moszkowski composed in all genres, but he's remembered today, if at all, for his 250-plus piano pieces, still occasionally sourced for recital encores. This CD, the first in a projected comprehensive compilation, presents Moszkowski's earliest piano works, all dating from 1874-1877, when the composer was in his early 20s.
The playful opening Conservatoristen-Polka, humorously labelled "Op.½," and identified as composed by "Anton Notenquetscher" (Note-Squeezer), references a much-reprinted satiric poem by Moszkowski's older brother Alexander.
Among the disc's other 13 pieces, three are fairly substantial, at over nine minutes each. Fantaisie (Hommage à Schumann), Op.5, successfully echoes Schumann's style and its extremes of assertiveness and tenderness, with lyricism prevailing. In Fantaisie-Impromptu, Op.6, warm, gently rippling melodies slowly build to a fortissimo climax, marked grandioso. Humoreske, Op.14, is a buoyantly cheerful, virtuosic essay in dotted rhythms and rapid runs.
Of the shorter pieces, I particularly enjoyed the reflective, Schumannesque Albumblatt, Op.2, the sentiment-laden Melodie (the first of the Skizzen, Vier kleine Stücke, Op.10) and, most of all, Con moto (the second of Trois Moments Musicaux, Op.7), in which episodes of urgent plaintiveness are offset by beautiful, serene, hymn-like reassurances.
Ian Hobson's many recordings include all of Beethoven's Piano Sonatas and Chopin's complete piano works. He also conducted Moszkowski's orchestral music on the fine CD I reviewed in the December 2020/January 2021 edition of The WholeNote. In Hobson's very capable hands, future Moszkowski CDs promise many more hours of enjoyable discoveries.