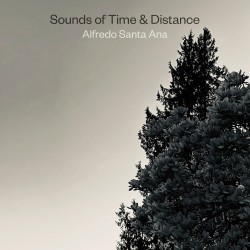 Sounds of Time & Distance
Alfredo Santa Ana
Independent (alfredosantaana.ca)
Born in Mexico City and working in Vancouver since 2003, composer/guitarist Alfredo Santa Ana draws on his experiences composing for television, film, dance, instrumentalists and orchestras in his self-described "hybrid" nine-track album for guitar, electronics and flute combinations.
Santa Ana does everything here with successful finesse, from performing, composing, recording, mixing, mastering and producing. Opening track Under an Orange Sky (2017), originally commissioned for 18 musicians, is a guitar duet here, performed with Michael Ibsen. Santa Ana's musical depiction of the horrific BC fires and subsequent long periods of orange skies opens with exciting fast lines and accented single notes, followed by suspenseful longer lower-pitch held tones and occasional dissonances, and repeated midsection minimalistic lines with slower quieter sounds adding a reflective touch. More virtuosic well-thought-out guitar performances by Made in Canada Duo as Ibsen & Nathan Bredeson play Santa Ana's interesting Foundation Visit High Scatter (2022) uninterrupted changing sound environments from slow strums to pitch slides to punchy rhythmic sections. Wave Remote (2022), performed by McGregor-Verdejo Duo, has flutist Mark Takeshi McGregor and guitarist Adrian Verdejo use loopers and electric guitar pedal technology to at times play above themselves in almost quasi rock and contemporary music improvisations. Steve Reich's three track Electric Counterpoint (1987) receives a meticulous respectful performance by Santa Ana.
The musical world of guitar explodes with unexpected new sounds, flavours and effects in this fantastic release.