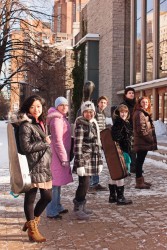 I.
IT WAS A BIT COLD, I grant you – one of those crisp January Sundays that gets called "twenty below" because it's windy. If you didn't know better, you'd have thought the sign saying "Isabel Bader" must be for a hockey rink, what with all the minivans rolling up, full of kids and gear. And who else in Canada but a hockey parent would sacrifice their day of rest like this, on the coldest Sunday afternoon of the winter? Who else indeed?
One of the dads of the seven musicians assembling for the hastily scheduled photo shoot comes up to me. (My standard issue cherry-red Quest Nature Tours Arctic expedition Gore-Tex windbreaker must make me look like I know what's going on). "So whose bright idea was this one?" he asks. His shivering son or daughter is huddling with the other six young musicians, while WholeNote photographer Air'leth Aodfhin explains the shot we are looking for, and Toronto Sinfonietta music director Matthew Jaskiewicz looks on.
I explain to the dad that it was The WholeNote publisher's crazy idea (and that the WholeNote publisher is me). "But not to worry," I add. "We only need instrument cases in the picture not instruments, so you can throw the fiddle in the trunk if you like." It only takes about five seconds for him to realize I am joking, but the relief that we are not going to ask them to pretend to be playing outdoors is palpable. I explain further that we won't be out there more than twenty minutes and then we'll head over to the Royal Conservatory for a hot chocolate and a chat.
True to my word, the whole shoot takes only 45 minutes (including a couple of "just in case" safe poses in front of some vines). Then we beat a retreat two short blocks west to the Royal Conservatory. First stop, the little basement cafeteria between the old building and the Cherry-red Gore-Tex windbreaker notwithstanding (see page 6), I am very glad we came in from the cold.
But, I am also glad, for two reasons, that we made the detour to get the outside photo. For one thing, it calls attention to the Isabel Bader Theatre itself – the venue to which, February 26, these seven young musicians (and three others not pictured) will return for the main event of this story.
Not many people in the music community realize just how convenient the Isabel Bader Theatre is – less distance east of Museum Subway Station than the Royal Ontario Museum's own main entrance is to the west. Filmfest patrons certainly know the venue well, but it is not the largest pin on the musical map. New Music Concerts has used it two or three times, most recently last Dec 10, for their Elliott Carter at 102 birthday celebration concert). It has also been a Luminato venue over the years. In 2007 it was the scene of an"opera" titled The Passion of Winnie, presented by Musica Noir. The show was mostly memorable for the fuss when the Winnie of the title, Winnie Madikizela-Mandela, was denied entry to Canada for the show, but also memorable for the work of mezzo Chantelle Grant in the title role. In the 2008 Luminato, the Bader was used for the Gryphon Trio's Colour... for the End of Time, an exploration of Messiaen's synaesthesia. The show was ideally suited to the Bader's better than average capacities for enhanced sound and projection. Earlier the same year it was the venue for "teen sensation" jazz artist Nikki Yanovsky's Toronto debut, a Luminato/Toronto Downtown Jazz co-presentation.
The Bader is not a purpose-built acoustic music hall, that's for sure, but according to some who have used it, it's a hall you can hear well in, especially if the theatre's acoustic bandshell is deployed for the event.
(My second reason for being glad we made the detour, I will save for a bit later on.)
II.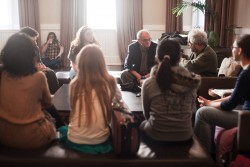 THAWED, WE MADE our way from the interstitial cafeteria in the basement to the cosy main floor lounge to the left of the old RCM building's main entrance. There, I chatted for half an hour or so with Toronto Sinfonietta's music director Matthew Jaskiewicz and the "Bader-bound" seven.
"There were five sections to the competition," Matthew Jaskiewicz explains, "strings, winds and piano, for ages 16-19, and strings and piano, under sixteen. Students choose their own concerto and apply. Successful applicants are asked to audition in front of a jury of prominent members of Toronto's classical music community with piano (or second piano) accompaniment, and the winners are invited to perform before an audience accompanied by the Toronto Sinfonietta. Generally speaking, section winners will each get to perform a movement of their chosen concerto with the full Toronto Sinfonietta orchestra, while other finalists will perform solo works. There are not only fantastic performers on the programme, there are also some tremendous challenging works."
This is Toronto Sinfonietta's fifth such competition. "From my point of view, I get the best young musicians I could imagine. There is no other way of finding them. It's lots of work, but the results for Toronto Sinfonietta are splendid." Jaskiewicz admits to worrying a bit about the possible negative impact of competitions on some students. "They may discourage those who don't win. We saw some excellent musicians among the 'losers.' I worry what happens to them."
But he has no reservations about what this competition does for him. "It makes me younger. It gives me an opportunity to work with absolutely wonderful young people, to meet devoted and competent teachers, and to see how parents make sacrifices to support their children. With so many people fighting for the growth of classical music in Canada, I dare to hope... we will survive." Listening to the seven speak, all of them so clear about loving what they do, all of them brimming with hope and confidence, it's hard to disagree with him.
I arrange to get resumes from all of them, and leave them with Jaskiewicz, deeply involved in discussing their upcoming rehearsals – planning for the real work at hand.
III.
IT'S A FUNNY THING about resumes. If you read in a resume that "Performer X only switched to violin after first completing consrvatory grade 10 piano," you may possibly note the fact in passing. But if you read that Performer X switched to violin at age eight after first completing conservatory grade 10 piano, you stop and take notice.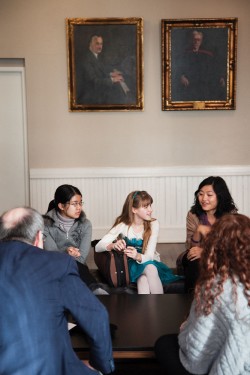 Reading these seven musician's resumes I found myself stopping to notice, over and over again.
"I began learning to play piano at the age of five, in Ukraine. Shortly after, I began participating in concerts and competitions."
"I started piano at age four… played as a soloist with the Cathedral Bluffs Symphony at age ten and later in Carnegie Hall in New York, at 'Assisi in the World' international music festival in Italy, and on CBC Radio One and Classical 96.3 FM."
"I began studying cello at the age of 4½, at the ages of eight, nine and ten, performed as solo cellist with the Ashdod Chamber Orchestra".
"I have performed several times as a soloist with the JVL SSPA Orchestra, and the Kindred Spirits Orchestra and as concertmaster of these orchestras."
"When I was 8 my grandmother thought that perhaps clarinet would be a good instrument for me and taught me the fundamental basics. I loved it!"
"I began my violin studies at age 4, making my first appearance on stage at age 5… and was the Grand Prize winner of the CMC National Finals in 2010."
"I began playing the violin when I was three years old, and began competing at an early age. I have won many competitions, including being placed first in Canada for six consecutive years at the Canadian Music Competition in the Strings category."
"My long term goal is to attend Juilliard and become an internationally acclaimed solo violinist." "I have played in masterclasses with various artists, including Leila Josefowicz, James Ehnes, Aaron Rosand, and Renaud Capuçon."
Equally interesting to observe from the resumes is the portrait they paint of the intricately interwoven musical support system that our community provides. There are the teachers, many of whose names are familiar to readers of the WholeNote as the performers who regularly grace our pages. There are the music schools and colleges, astonishing in scope and variety. And there are the competitions, little and large in which, as one of the seven put it, "either you make the mistake of having as the sole purpose getting first place, or you learn that the real spirit of competition is to show what you can do and how easily you can do it, and just have a good time performing the piece that you have worked on for such a long time."
Taken together, these are the cauldron in which the complex ingredients of attitude, emotions, dazzling technique and sheer bloody determination needed to succeed in this milieu, are mixed and stirred. These are the traits that will need to kick in when labels like "prodigy" and "teen sensation" are no longer a draw.
IV.
HERE'S MY SECOND, rather more allegorical, reason for being glad we did the Bader photo detour. On the path to honours at hallowed conservatories, or triumphing at competitions with prizes of staggering magnitude, there are going to be all kinds of unexpected detours. so you might as well get used to it. It's called paying your dues. You shiver in the cold for what may, after all, turn out to be nothing more than a small photo and mere mention in a local "rag." You learn how, in an interview, to give more interesting answers than the questions you were asked. Don't scoff at the latter, by the way. As you will see, it's a skill important enough for the soon-to-be biggest piano competition in the world to have changed its rules and practices.
Quantum Leap – Honens Shows the Way
Quite the coincidence, I'd say. This story is about a small, local music competition, and what it is doing to pave the way for tomorrow's musical best. This very morning (Mon Jan 24), sitting here pondering how to conclude that story, I received a release from the Calgary-based Honens International Piano Competition to say they are upping their top prize for the 2012 edition of their triennial international competition for emerging pianists, to a world-leading $100,000. It is an amount that will make a lot of people sit up and take notice. But just as noteworthy as the cash (and in my view more interesting), are the "strategic enhancements," also announced today, to the rules of the Honens competition.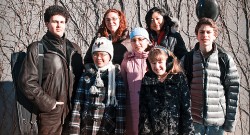 In 1991 philanthropist Esther Honens established the Competition with a $5-million endowment. Her dream? "To create a stage in Calgary, and in Canada, for the world's most promising pianists." Since the beginning, the Honens has been a pioneer among competitions in delivering a comprehensive artistic and career development program to its laureates. While the enhancements announced today seem to deal with small nitty gritty issues in respect to "pianist eligibility, competition length, jury composition, pianists' requirements, and the cash and artistic and career development awards," cumulatively they point the direction for the Honens to pursue its goal of "redefining the world of music competitions for the 21st century."
As they explain it: "Competitions and conservatories now discover and graduate an abundance of potential professionals. But with limited performance opportunities posing challenges to emerging artists, some musicians are in danger of becoming 'career competitors' who rarely have an opportunity to discover their own musical personalities. With these enhancements, the Honens Competition serves as a meaningful audition process that the world's music community respects and on which it increasingly relies to deliver musicians who have great career potential."
The first change they announced today is, ironically, also the one that may be hardest to implement, namely that "professionally managed pianists may no longer take part in the 2012 Competition." The rationale is that "pianists with professional representation have already made big steps in their careers by securing management and therefore cannot take full advantage of Honens' three-year Artistic & Career Development Program." (And, believe me, it's not an artistic and career development program to sneeze at – add to the $100,000 cash prize, three years of major debuts, return concerts, recording, and other opportunities, and the prize for the first laureate is worth close to five times the cash amount.)
So, this new rule states that a Honens Laureate will only be entitled to sign with professional management after the first year of their award (and would still be managed jointly for the remaining two years). But it is frankly a bit hard to envision young artists even making it through the rigours of a Honens application without benefit of early professional mentoring. So I wouldn't be surprised to see further tinkering with this particular "enhancement" (and a fair bit of disingenuousness on the part of applicants and their "handlers" in the meanwhile).
But three other areas of refinement make a lot of sense.
First, the number of competitors, and winners, is down. In the Quarterfinal International Audition Round, which takes place in spring 2012, only 50 pianists will be invited (down from 90 in previous competitions) to perform in "important music cities" (likely Berlin, London, Los Angeles and New York). Of these, ten pianists (it used to be 21) will advance to the semifinal where they will perform a 60-minute solo recital and a 65-minute chamber music recital (including cello, violin and art song collaborations). From these semifinalists, five will be selected for the finals, performing a concerto of their choice with the Calgary Philharmonic Orchestra. And one of these five will be selected Honens Laureate for 2012, half a million dollars (in cash and kind) closer to their professional dreams coming true.
Second, the overall timeframe for the event is shortened. Semi-finals and finals will take place in Calgary between October 17 and 26 2012, down to ten days, from 16. The shorter time frame ensures top flight jury and chamber musician involvement for the whole period, and a heightened festival atmosphere for all concerned.
Third, competitors will have to demonstrate a much more well- rounded grasp of the complex demands of a performing career, from selecting repertoire for their own recitals at each stage, to participating in two interviews with a professional arts journalist, one on video during the quarter finals; another, live, during the finals.
In regard to the interviews, the release says "to establish a career in music today, a pianist must have his/her unique and distinctive voice, be a versatile musician and an effective communicator... a willingness to learn English is critical for the development of an international career."
And in regard to competitors selecting their own repertoire, Honens makes the challenge plain: "Applicants are advised to consider each performance a concert and to design programs with the same care and on the same principles as for a public recital… Juries are instructed to look for intelligent and imaginative programming."
For the young musicians on our cover, it's a long road from the Toronto Sinfonietta's February 26 Concerto Competition at the Bader, to something like the seventh (or even eighth) triennial Honen's Competition. But in terms of ideals and aspirations, for musicians and organizers alike, the impulses that drive the two events are more alike than not.
And it all happens step by step.