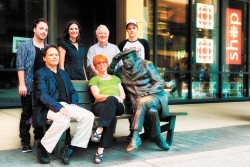 As might be expected, this month's 80th anniversary of the birth of Glenn Gould (and the 30th anniversary of his death) are not passing unnoticed. A lot of the planned activities fall into the range of what one might conventionally expect — concerts of Gouldian repertoire (such as the gorgeously conceived "Bachanalia" at Koerner Hall, September 24), cd and dvd releases, book launches, academic conferences and the like.
One of these upcoming events, though — the one that inspired this story — is as unconventional as Gould himself: "Dreamers Renegades Visionaries: The Glenn Gould Variations" will take over University of Toronto's Convocation Hall for two jam-packed days September 22 and 23. With an audience of likely well over 1,000, and an astonishingly diverse lineup of over 50 presentations and performances, all under 20 minutes in length, it's the kind of perfect cultural storm usually reserved for elite gatherings like TED and ideacity. Except that it's going to be at a fraction of the cost, especially for students.
So who is to thank for GGV, as participants seem to be calling it?
Ron Davis:Piano-man, and self-styled "recovering lawyer," Ron Davis, is one of them for sure. In fact he could probably call GGV "his idea" if that was his style (which it isn't). "I've spent decades preparing for this" he says. "As I like to say, Glenn Gould was a big palm print in the wet cement that was my adolescent brain, and that impression has always remained."
"A good time to get it off your mind, then," I tease. "I mean, with this great big Gould 80th anniversary 'brand wagon' rolling through town." The lawyer in him flares a bit.
"I would be the first one to criticize anyone who did jump on some kind of 'brand wagon'," he says. "I mean, the biggest event immediately after his passing was a piano competition that was won by a woman who is now a world famous pianist, Angela Hewitt. That was the international Bach competition in the name of Glenn Gould. Now, if anyone knows anything about Glenn Gould it's that he hated competition and he hated performance! He would have despised having his name attached to that."
So how is this one different?
"I think Glenn would have at least appreciated the fact that we were not doing a 'homage to Gould'." he says. "What we're doing is celebrating the spirit of his work, because although he may have disliked performance and actually said, many times, that audiences are a form of evil, and that performances are a blood sport, on the other hand, the idea of taking technology, the idea of manipulating music with technology, the idea of combining dance and different modes of performance in public and presenting it in new ways, I think he would have liked."
Consummate pianist Eve Egoyan, who has been invited to perform at the event, in collaboration with artist husband David Rokeby, would surely agree. She will perform parts of a work, Surface Tension, for disklavier and "realtime images." In it, all the various attributes of the piano trigger visual as well as audible responses, so that the improviser at the keyboard finds herself in an extraordinarily compelling realtime feedback loop. (Google "Egoyan Vimeo Surface Tension"for a look.)
Increasingly as Egoyan's own career as a performer morphs and evolves, she finds personal resonances in utterances such as the one in one of the early releases for GGV which talks about how Gould was "not only a fearless musician, writer, radio and TV broadcaster with endless curiosity and a devilish sense of humour, he was also a tireless explorer of technology as it applied to the arts and was one of the world's first true multimedia artists."
David Daniels: If we have Ron Davis to thank for the lofty idea of GGV, then I suspect that Davis himself probably has David Daniels to thank for grounding it, by giving it a context and purpose that may yet ensure it a permanent place on the cultural calendar: something more than a one-off anniversary party, or just another immersive weekend for the well-heeled cultural cottage set.
"A principal in Daniels Capital Group, the real estate investment company, entrepreneur David Daniels has a successful track record of creating new businesses in a range of industries, from entertainment to retail and design," says his terse bio.
But he's also a man with a steadfast artistic mission. And in Davis's idea for GGV, Daniels was presented with a a clear opportunity to advance that mission. "Ron on his own was thinking about a multimedia event around Glenn Gould," Daniels says. "I was aready thinking about how to bring about an immersive conference-style event with the power of a TED or ideacity, but accessible for young people, and in general for people who don't have the $750 a day for those events." "The younger and the poorer?" I ask. "Let's call it the young and the young at heart," he replies.
It was a catalytic meeting of minds. Daniels volunteered himself as executive producer for GGV. (It is already a role he serves to equal effect with Acting Up Stage Company whose groundbreaking Caroline, Or Change was a theatrical highlight of this past December.) With Daniels now on board, Davis could concentrate on finding someone to partner in the daunting artistic task of attracting the kind of participants, and building the artistic team, for the total "Gouldian" event he has been hankering after — the "filmmakers, dancers, choreographers, voices, music makers, DJs, visual artists and music producers, philosophers, futurists, journalists, media mavens, historians, and provocateurs who defy description ..."
He knew who to ask and, thankfully, she accepted.
Pia Kleber: Kleber is a professor of comparative literature and drama at University of Toronto. She picks up the story. "Just over two years ago, Ron asked and after thinking about it for a bit I said yes because I like to work with Ron and also because, coming from Europe I always thought Canadians do not always celebrate enough their heroes. He had already talked it through with David Daniels and other people, and formulated that we did not want to do an orthodox GG festivity but something that was inspired by Gould, and he chose three things, which are art, technology and media, and of course this approach was very much my vein because I have to teach also how technology integrates in the arts."
Like many of the people in this story, Kleber found out there was more to Gould than she thought. "Oh, I knew a lot. You know, in Germany you just know about Gould ... [but] I knew basically about Gould the musician and about his music ... [As] I did my research and watched all the videos I was amazed. I discovered this visionary, this man who was so much bigger than just his music."
Kleber, by the way, has taken on the task before of organizing "Thirty Years After" events built around "titans of artistic influence," as David Daniels described Gould. In 1986 she organized a "Brecht: Thirty Years After" conference/festival which brought together three generations of Brecht scholars, and, with Mirvish involvement, two landmark productions (Caucasian Chalk Circle and Threepenny Opera) by the Berliner Ensemble. As significantly, it created a rallying point for literally dozens of other productions around the city, loosely affiliated to the festival. The key was these other productions didn't have to be by Brecht to be included; but they had to be able to justify themselves as, in some sense, "Brechtian."
"Is 'not Gould but in some way Gouldian' a similar idea this time?" I ask.
"Yes. Of course, at the time 'Brecht: Thirty Years After' was first of all a conference of three generations of Brechtian scholars and then I really wanted to show the breadth and incredible influence that Brecht had, and in many directions ... so, absolutely, it was in my mind, and of course the person who is the creative director [of GGV] is Johanna Schall, who is Brecht's granddaughter."
Davis, Schall and Kleber have been hard at it for months, each "bringing in their connections and their research." Kleber's position as a teacher at U of T has been crucial. "Of course I also involved my students. I have a council of students and we always try to present them the program and to ask them to come with ideas, because this event is really geared towards young people. And if they said, 'no [an idea] bores us to death, or it's exciting,' we looked at it. We did not instantly accept it but we were looking at it."
Thanks to Davis, Daniels, Kleber and now Schall, GGV moves ever closer to fruition. But beyond their efforts, if it all succeeds, at the heart of it all will be Gould himself who is most to be thanked, calling the event into being with quite astonishing power.
"There was no call for proposals," Kleber says. "None. I mean, Bob Wilson [Einstein on the Beach] is an old friend of mine ... and Atom Egoyan is a friend, so he came up with his installation, and there are a lot of people whom I know personally or Johanna knows personally, or Ron, but many people we just found through research–YouTube was very helpful–and approached them. And it's the name of Glenn Gould that is opening all the doors. I mean Lang Lang who is such a busy man is flying in to celebrate Glenn Gould; or Todd Machover from MIT who is all over the world said 'no, it's Gould. I come.' It's wonderful to see this."
Spinning Gould II: Making the Cover
Once The WholeNote decided to get on board for this story (at a date so far past our usual deadlines that it instantly set off alarm bells all the way to our printing plant in Etobicoke) it was an all or nothing situation.
But even so, it shouldn't have been hard to figure out that even for a hurriedly arranged photo shoot, calling it for high noon on a blazing hot weekday, on the south side of the CBC Building, was perhaps not the best of ideas I've had this past while.
Gould of course didn't care, eyeing us impassively from his familiar perch on Ruth Abernethy's iconic sculpture bench in front of the 300-seat concert hall/recording studio in the CBC building that bears his name. But my photographer and art director sure did, as the sun beat down relentlessly on the bench, casting harsh inerasable shadows and causing everyone's eyes to squint against the glare.
But then again, perhaps it was Gould who, just at the right moment got the sun to slide in behind the great towering bulb of the CN Tower, immediately across the street, giving us 15 minutes of the blessed shade we needed to complete the shoot.
And it was definitely in a collegially Gouldian frame of mind that we all trooped off to the cafeteria in the CBC building atrium afterwards, to rehydrate and let a few words fly. Certainly it was in the spirit of the upcoming event.
We made a bit of a motley crew: Pia Kleber and Ron Davis, whom readers have already met in the story; our "cover boys" Billy Iannaci and Andrew Testa (more about them in a moment); choreographer/director Clarence Ford who arrived too late for the photo shoot, but stayed anyway, revealing off the record a wonderful idea for his performance that I promised not to spoil; and rounding out the picture, Lorne Tulk, Gould's recording engineer who, as the story has it, and as Tulk will corroborate, was the closest thing Gould had to a brother, and was the only one of our gathering one with a direct connection to the man behind the ever-evolving myth.
Iannaci and Testa will perform at GGV as two members of a threesome, with DJ Sam Pereira (who spins under the name LRS, and is off backpacking in India so couldn't join us for the shoot, but he and I communicated later). Their piece is called "Gould's DNA" and, especially in the context of the fact that they have never worked with each other before, it's interesting to hear them describe the piece they are working on. "What makes us powerful and creative is that we each bring unique talents to the table," says Pereira. "Billy is a talented producer (dissecting and breaking down Gould's music into Midi). Andrew is a talented musician (drummer and composer). I am a DJ/conductor keeping our performance on time, while providing contemporary elements of the DJ (mixing, scratching and EQ-ing). We are still working on our performance. I'd say the most 'Gouldian' thing about it will be that we're composing three different songs that will be themed around his ideas on music and technology."
Pereira cheerfully confesses to knowing next to nothing about Gould before the project, "a generation thing, you know." But his bio also states that he has performed all over the world and currently maintains the widest syndicated live-to-air broadcast in Canada, with weekly listenership that ranges between 500,000 and 1,000,000. So the "generation thing" cuts two ways.
Iannaci began his musical career as a singer/songwriter, and has since gravitated much more strongly to the production side. Testa works both as a drummer and on the production/engineering side. Both are evidently getting a huge kick out of the process they find themselves in, in preparing for the event, not least in the evident camaraderie they are developing with Tulk. "This whole thing," Testa says, "has opened our ears to classical music and has challenged us to work on something a bit out of our element and we plan to dissect artists like Gould in future projects."
"Our other goal," Iannaci adds "is to have people know more about modern composition technology, the things that most likely Gould himself would have been doing if the technology was available to him–what we call the "chopping" of audio ... it would be the splicing of audio, and we're going to use that to kind of create completely new compositions. Also, the other thing that we want to be highlighting is the program Melodyne, which is going to be able to read Glenn's performances, and we'll be able to apply those performances to modern instruments, as well as add our own little compositional flavours into it ... so for instance we've been able to take Gould's playing and apply it to 8-bit (8-bit is like the Nintendo sounds) — just creative things like that."
Tulk is smiling as they speak. "I am just sort of laughing at what they were saying, about how they were able to do what they were able to accomplish ... it's a magnificent program, Melodyne. That's what Glenn would appreciate, the creativity, the freedom ... you're free to create as you wish. I always loved the phrase that Glenn had more than 88 keys in him. He just had so ... there were so many other aspects of him other than the piano."
"Maybe he'd never have touched a piano again if he'd had these tools," I say. "What do you think? Do you think he'd have been swept away by all of this?"
"No. No, no" is Lorne's reply. His mind was too active for that. His mind would have gone with the times. He was a digital man with an analog skin, yeah, no question. And no, I don't think he would have gotten swept away, he would have been part of the era. He was very quick at filling in the blanks."
An expanded version of this article coming soon!