Extended Interview with Andrew Timar



by Karen Ages
Anniversaries are a time to look back and reflect on time spent together, or on one's accomplishments over the years, and the Evergreen Club Contemporary Gamelan is doing just that. They celebrate their 25th anniversary season this month, with three different concerts: May 2 at the Open Ears Festival in Kitchener, and May 4 and 11 at the Music Gallery. I asked long-time member and suling player Andrew Timar to tell me a bit about the Ensemble and his role within it.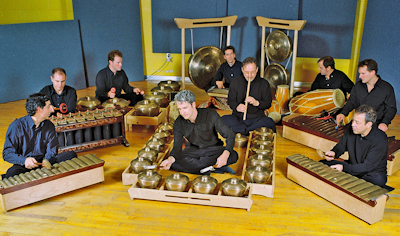 Karen Ages: When was the Evergreen Club founded, and who were its original members?
Andrew Timar: Jon Siddall founded the Evergreen Club, Canada's first gamelan, in 1983. We met while we were students at York University and became fast friends, performing extensively in various groups both in and out of school. Jon went on to do his graduate studies at Mills College, CA, studying composition with noted American composers Terry Riley, Lou Harrison and Robert Ashley. In addition, he studied gamelan degung at Mills with Lou Harrison (1917 - 2003), who was among the first Western composers to compose directly for entire gamelan (orchestra), as well as building several orchestras based on Indonesian gamelan from indigenous American materials. This Harrison connection established by Jon Siddall has proven significant for the future of ECCG for several reasons. The primary one is perhaps that Harrison assisted Siddall in acquiring his gamelan degung (or degung for short), which turned out to be Canada's first complete gamelan set. Jon now lives in Vancouver where he pursues his career as a composer, a CBC music producer, and teacher of degung music at the Vancouver Community College.