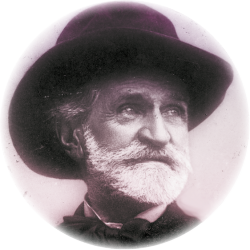 Who was Giuseppe Verdi and what makes him unique and different from that other fellow born in the same year of 1813 — Richard Wagner? Verdi was from Italian peasant stock and therefore strong, healthy, tough and stubborn, and lived a long life of 88 years (unlike Wagner who was plagued with ill health throughout his life and died before the age of 70). This toughness, coupled with great ambition, enormous talent, almost boundless energy and shrewd business acumen, enabled him to write ten operas in just seven years, one for each major opera house in Italy; and by the age of 40 he became the talk of his nation, rich and respected. He was also a pleasant man who was kind to his parents and his wife, but also a bit shy and wary of publicity. He was no egotist, womanizer or debt-ridden spendthrift like Wagner, but rather a patriot and great supporter of a unified Italy who shared his wealth generously and was charitable to the less fortunate.
Born october 10, 1813, Verdi was, in a word, the right man for the right time. Italy had been a very musical nation from time immemorial. As early as the 16th century opera was "invented" by an Italian, Monteverdi, albeit in a primitive form, but it continued to be developed by a succession of composers who glorified the singing voice through a style called "bel canto." By the early 19th century there were masters like Bellini and Donizetti and countless lesser composers, now forgotten, who became great celebrities providing the finest musical theatre entertainment the Italian public craved. They were followed by Gioachino Rossini, a musical wunderkind who took the helm and became enormously rich with some 60 very successful operas. However, after the death of his wife in 1845, Rossini retired from the opera scene, Bellini was dead and Donizetti in an insane asylum, so there was a vacuum ready to be filled. And it was this country boy, this Giuseppe Verdi who filled it.
He started from nothing. A barefoot little boy, a self-taught church organist in his village of Le Roncole, near Busseto in the Duchy of Parma, Northern Italy, he was viciously kicked down a flight of stairs by a priest. Aching in body and soul he never forgot this incident and remained suspicious of the clergy all his life. Later, when he applied to the Conservatory of Milan he was promptly rejected. Verdi never forgave the Conservatory; in fact, when much later the elders of the school tried to change its name to Giuseppe Verdi, he would not allow it. His first success grew out of a life-shattering tragedy, something that would have destroyed a lesser man: losing his wife and two children in quick succession. Providence however intervened and in 1842 the enormous success of his third opera for La Scala of Milan, Nabucco (see list of recommended recordings below) instantly made his name. Nabucco was altogether new, fresh and bold with a melodic richness never heard before and a subject with which the public could identify. The immortal chorus "Va pensiero!" became an unofficial national anthem. Verdi at 29 was on his way. La Scala had a winner and wouldn't let him loose. The next year I Lombardi was an even bigger success.
Now, at this time there was no such thing as Italy. The peninsula was scattered with city states dating back to the Middle Ages, all of them under the foreign domination of Austria and France. Nevertheless, each had an opera house of architectural splendour, the pride and joy of the populace, where no expense was spared. Verdi quickly realized that he had to conquer each and every one of them to be considered a success in the eyes of his nation. The first step was Venice in 1844, with La Fenice, an opera house that surpassed even La Scala. The opera was Ernani, based on a Victor Hugo play with a tempestuous love quadrangle among three men (tenor, baritone, bass) fighting for a woman. Verdi struck gold again with this red-blooded opera throbbing with passionate arias and ensembles full of beautiful melodies, plus some rousing choruses. The Venetians loved it. Thus began a period Verdi later referred to as his Galley Years, criss-crossing the peninsula– Rome, Naples, doubling back to Milan, Trieste, a new work for each, at least one per year. Not all were big successes, but Verdi always tried something new and different and even his worst effort was better than some other composers' best. By 1847 he was ready to tackle Shakespeare whose plays he had admired since childhood. For Florence he wrote Macbeth based on the play but with much more complex characters and the misty, ghost-ridden milieu of Scotland, altogether a new challenge for Verdi. Although he succeeded with wonderful music well-adapted to his characters and their obsessed ambition and murderous cruelty, especially with Lady Macbeth, the star soprano, Italians were not ready for the opera, nor even for Shakespeare's plays at this time. But Verdi was not concerned. By then he had bigger fish to fry.
While Verdi was working with the Grand Opera in Paris in 1848, revolutions broke out all over Europe, reached Milan and Rome and the grand patriotic movement called the Risorgimento (Resurgence) began in earnest. The story goes that Verdi's name soon became an acronym and a rallying cry (although some recent research views this as apocryphal): Vittorio Emanuele Re D'Italia, based on the name of the King of Piemonte (Piedmont), the only state that was independent at the time, in whom the Italians laid their hope for a united Italy. The prime minister of Piemonte was Count Cavour, a brilliant statesman who became the architect of a long, laborious process that finally succeeded around 1865. Verdi was nowhere near the fighting since he was not suited to be a foot-soldier, but supplied a rousing, patriotic opera instead, La Battaglia di Legnano, perfect for the occasion, for Rome in 1849. It was earth-shatteringly successful. Although the movement failed at this time, all the excitement must have given the composer new inspiration because he scored a triple whammy with three new operas written in a quick succession, all masterpieces. Rigoletto (Venice 1851), Il Trovatore (Rome 1853) and La Traviata (Venice 1854) suddenly crystallized his style and his experimentation (including his trials and errors) into a brilliant new synthesis where everything just clicked. Verdi was on the road to world fame.
All of Europe wanted him now and he soon became very wealthy, but he was shrewd and invested his money wisely. Thinking of his retirement, he bought a large property at St. Agate in the countryside of his birthplace and started farming, his favourite hobby. He also built a manor house where he settled with his newly wedded wife, a beautiful opera star, the soprano Giuseppina Strepponi, his steady companion since his years in Milan. As the world took notice, orders were pouring in. First for Paris he wrote Les vêpres siciliennes (1855, translated to Italian as I Vespri Siciliani in 1861), a grand opera with ballet, over five hours long. Then back to Venice with Simon Boccanegra (1857), a searing drama of a Genoese Doge of lowly origins and the murderous infighting between social classes ending with the tragic assassination of the hero. This opera, sombre and dark-hued, was again a bit too much for its public and a source of frustration for Verdi; but he never gave up and revised it a few times until it took its rightful place in the repertoire in 1881.
Even at the height of his fame Verdi's problems were unending. His next work, Un Ballo in Maschera (1859), on the assassination of Gustav III, King of Sweden, ran into a bitter fight with the censors resulting in a compromise relocating it to distant, colonial North America, with the king becoming a mere governor. But another major order came, this time from the Tsar of Russia who wished a new work for the Bolshoi in St. Petersburg from the "world's greatest opera composer." He couldn't refuse this opportunity even if he had to travel to Russia in the winter — he was subject to colds and other minor ailments and disliked travel — but he persevered and produced La Forza del Destino (1862) again a great success. By this time Verdi had beaten Meyerbeer at his own game with this superb, richly endowed grand opera with glorious roles for soprano, tenor, baritone, bass and mezzo requiring five top singers, each in for a big workout, who made their names in those roles. Next: Don Carlo (1867) for the Grand Opera, Paris, considered by Verdi aficionados as his greatest opera, if not THE greatest ever. It is a historical opera based on Schiller's not-too-accurate account of the Spanish Infante's hopeless love affair with his stepmother, the wife of King Philip II, son of Charles V, the Holy Roman Emperor. Apart from the superb, atmospheric drama of many fascinating characters and music of the highest inspiration, it was Verdi's portrayal of the aging and unloved king that gave this opera its true poignancy. One more major commission came from the Khedive of Egypt who wanted something special for the opening of the Suez Canal and for the new opera house in Cairo. Verdi did not hesitate for a moment and Aida (1870) became a world favourite and has never left the stage since. Verdi was all of 57 years old.
By then, however, times and music had changed. New composers emerged in Italy, among them the young Mascagni who took the country by storm with his Cavalleria Rusticana based on a Sicilian peasant tragedy that started a new trend, the Verismo. More influentially, Wagner's long shadow descended on Italy taking many former Verdi supporters with him. Verdi was criticised as being old-fashioned, stuck in the mud, unable to produce anything new and different. Verdi was mortally offended. For the next 15 years he was unable to compose any new stage works, lost his usual confidence and became despondent. A small consolation was his quasi love affair with a charming young prima donna, Teresa Stolz. Verdi was past 70, but his appeal to the ladies remained unabated.
Inspiration and confidence fortunately did return, and urged by his new friend Arrigo Boito, a composer and librettist of high acumen, Verdi's interest in Shakespeare was rekindled. During the dormant period and under Wagner's influence, he developed a new style with emphasis on the orchestra and continuous musical flow rather than set pieces, and Otello (La Scala 1887) and Falstaff (La Scala 1893) were born. Musicologists believe Otello surpasses anything he had written before, but posterity and the public still prefer Rigoletto or Aida. Nonetheless, Verdi was indeed a genius to be able to turn his music around at this stage of his life.
He died in Milan in 1901 of a stroke. Hundreds of thousands came to his funeral, the young Toscanini conducted the orchestra, and the crowd spontaneously burst into "Va pensiero." Italy went into national mourning at the loss of her greatest composer and beloved patriot. 
Janos Gardonyi is a frequent contributor to DISCoveries.