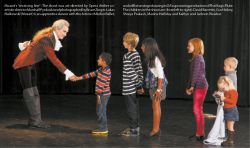 Wayne Koestenbaum in his seminal 1993 book, The Queen's Throat: Opera, Homosexuality and the Mystery of Desire, defines "diva" as "a woman opera singer of great fame and brilliance." While the main focus of the book is the link between opera and homosexuality, Koestenbaum also gives illustrations of radical fandom and diva worship.
My absolute favourite story in Koestenbaum's book concerns the English sisters, Ida and Louise Cook, who developed fanatic attachments to Amelita Galli-Curci and Rosa Ponselle, both of whom they befriended. The best part of the story is that the Cook sisters were instrumental in smuggling Jews out of Nazi territories during World War II. Yet rather than basking in their heroism, Ida, in her memoir, We Followed Our Stars, lamented that their war-work "cost us Ponselle's Donna Anna, Carmen, Luisa Miller and Africana. That was what mattered."
Soprano Wendy Nielsen, whose international career included 12 seasons at the Met, is now a vocal consultant with the COC Ensemble, and a teacher at the University of Toronto. She describes fandom at the Met. What Nielsen and other opera singers did not like were the fans who regaled them with their knowledge about whom else they heard singing the role and how wonderful they were. Says Nielsen: "That's not want you want to hear after your own performance. These show-offs collect names and spout them like a laundry list. What an artist truly appreciates is sincere words of how much a fan enjoyed the performance."
On the other hand, Nielsen speaks fondly of the "purple pen lady," or the lovely gentleman who wanted to talk about aspects of the voice. Nielsen had coffee with him a few times. She also mentions the "in house" fans, namely, the members of the orchestra and their casual conversations in the Met cafeteria about various singers, rating them against the greats of the past. Nielsen is amused that she still gets requests for autographed pictures in her retirement. They mostly come from Europe, and the requesters are usually scalp hunters, meaning they want to acquire as many signed pictures of opera singers as they can.
Nielsen maintains that the Japanese are the most fanatic fans. She discovered this on a recital tour with pianist Robert Kortgaard. "I had little profile in that country," she says. "I did have some commercial CDs but none available in Japan. Yet fans showed up with them to be signed. They had ordered them online. They even came with pirate CDs of performances, and I have no idea how they got them. The Japanese are the most prepared and the most intense audience."
People in the business view fandom differently from ordinary folk. For example, Guillermo Silva-Marin, general director of both VOICEBOX: Opera in Concert and Toronto Operetta Theatre, sees the ideal fan as wanting to become a volunteer during performances. "The payoff," he says, "is mingling with the artists and getting free tickets." Silva-Marin confesses that when he was a starving student, he fell behind in his rent because he spent his money on tickets. He did go backstage once to get the autograph of fellow Puerto Rican, Justino Diaz.
Henry Ingram is an artists' manager and a "reformed" tenor. As someone in the business, he sees himself as a non-fan, meaning, he never has done "fanny" things. He is, however, entranced by the opera world and a passionate believer in live performance. As a teenager, he was an usher at Atlanta's Fox Theatre and saw the greatest singers in the world when the Met toured there. Later he was a chorus member in various opera companies. He then went to Germany where he established a career as a tenor. In short, Ingram was always around opera stars so they were never awe-inspiring. "Rather than an opera fan, I describe myself as a music lover who enjoys the world of opera," he says.
Baritone Cameron McPhail and soprano Mireille Asselin are members of the COC Ensemble Studio. McPhail is a fan of old line baritones like Robert Merrill, Leonard Warren and Giorgio Zancanaro. "If not for YouTube, I'd never know these people," he says. "They give me inspiration. I track their careers and see what repertoire they were singing at different ages." And for Asselin: "Of course I'm a fan because opera is my passion. I'm now encountering singers I idolize like Russell Braun and Susan Graham which is a thrill. As I grow in my craft, I listen for different things. When I was younger, I liked singers who were high, fast and loud. Now I look for colour like the way Simon Keenlyside uses his instrument."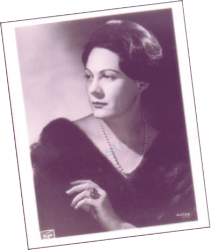 Giuseppe Macina, retiring artistic director of Toronto Opera Repertoire, became a lifelong friend of Renata Tebaldi. His family was in the leather business, producing harnesses for carriages. One patron was the noble Amari Cusa family, and Macina became friends with the son, Bernardo. He first fell in love with Tebaldi's voice when he heard her on the radio singing "Ritorna vincitor" from Aida when he was eight years old. Shortly after, Macina was introduced to the soprano when the Amari Cusa family gave her a reception when she sang in Bari.
The Macina family immigrated to Canada in 1954. In 1955, Tebaldi made her Met debut. She gave a recital in Toronto a year later. Macina sent her a box of roses with a note about meeting her in Bari when he was a youngster. After the recital, he went to the stage door, but Tebaldi's dragon lady secretary wasn't letting anyone in. Says Macina: "Giuseppina, Tebaldi's mother, took pity on the 15-year-old boy and told the secretary to let me in. My relationship with Tebaldi grew from there. We used to talk on the phone and I saw her in Milan whenever I visited Italy. We'd discuss her recordings. " To this day, Macina remembers every aria on the Massey Hall program.
Joseph (Joe) So is a retired anthropology professor and a working music writer. He admits to being a diva worshipper in his salad days, getting on singers' lists to get backstage. He also wrote to singers he admired. In his day, So collected thousands of autographed pictures, and was part of a network buying pirate tapes. He always takes his camera to a recital and snaps the singer during the curtain call. To his credit, So gave $25,000 towards the Four Seasons Centre. "Fandom," he says, "is a serious pursuit."
John Gilks, systemic therapy product manager for Cancer Care Ontario, is an opera blogger. His website is called operaramblings. "I was out of work for a while," explains Gilks, "and I was concerned about not writing, so I decided to write about opera. I started by reviewing DVDs, lunchtime concerts and student performances — things not getting covered by the mainstream press." Inspired by Toronto Star music critic John Terauds getting dumped from his position, Gilks wrote a spoof on his blog about the garden writer being sent to review an opera. That blog made him famous in the opera community at large. "I'm now in constant contact with other opera bloggers in North America and Europe," he says. "We're a little ecosystem of our own."
André Paradis, director of community information and training services for Findhelp, follows voices. He had his first epiphany in his native Vancouver hearing a recording of Tiana Lemnitz singing "Ach ich fühl's" from The Magic Flute conducted by Thomas Beecham. "The emotion and passion of her singing started me on my love of opera," he says. "Through her, I got it. I got opera."
Paradis writes to singers because he wants to hear their thoughts on the music. (Lemnitz once sent him a handmade Christmas card.) His vacations are planned around who is singing what where. His next trip will take him to Brussels, Paris and London. "I have a passion for the voice," he says, "and I follow a voice to hear the singer in the repertoire that they have chosen." Paradis also has an eye for new talent, and mentions Julia Lezhneva, Kate Royal and Lucy Crowe.
Wayne Gooding, editor of Opera Canada magazine, is a collector of opera paraphernalia. We're not talking about run-of-the-mill signed photographs of opera stars. Gooding haunts antique shops and vintage bookstores. For example, he owns Beecham's first edition copy of Die Meistersinger, and Siegfried Wagner's first edition signed piano score of Tristan und Isolde.
For Gooding, opera is a total work of art. "When I come out of the theatre," he says, "I want to savour the production in my mind. I don't want to see singers out of role. I'm interested in performance with voices in context." Like Paradis, Gooding's recreational travel is planned around opera. He also admits he is a Ring junkie, and has seen one a year during the last 20 years. As an unabashed Wagnerian, Gooding saw all seven performances of the COC's Tristan, plus the dress rehearsal.
And on the subject of collecting, opera fan Matina Kronos has kept all her opera programs. When they got too bulky, she photocopied the title page and cast list, and put them into binders. The collection is a treasure trove of opera performances from around the world spanning almost 40 years. She and a friend went to so many Ring cycles that they called themselves the Rhine Sisters. Kronos loves opera for the drama of the music, but she also has a special place in her heart for singers. For example, when Ben Heppner won the Met auditions, she threw him a big party. She is known for adopting singers, like having the COC Ensemble members over for dinner.
Former editor John McConnell is an "inner workings" fan. His fandom manifests itself by going to performances and reading books like Rudolf Bing's autobiography because of its insider information. He loves the interviews on the Met in HD broadcasts because he gets to see the artist as a person. He's fascinated by what goes into making a production. One of his favourite opera events was the recent Covent Garden live streaming of a day in the life of an opera company. "I'm not interested in direct contact with a performer," he says. "I'd rather read about Caballé in the audience at the Met, taking out a chicken from her handbag at intermission and eating it."
Ken Moy is a retired United Church minister. He and fellow student William Littler (of the Toronto Star) joined the extracurricular Ernest MacMillan Club at Britannia High School in Vancouver because they loved classical music. Through the club, they got to usher at the Georgia Auditorium. (They both ended up in Toronto and are still friends.) Moy admits to being influenced by negatives, for example, losing interest in Kathleen Battle when her shenanigans at the Met came to light. "I'm not into facts and details," he says. "I don't want to know about singers' private lives. I just want to see opera. You can't beat the live experience and the warmth of the music."
For semi-retired university professor Wayne Fairhead, opera led to a feast for the stomach. His background is theatre, and combined with his love of classical music, opera was an inevitability in his life. He and five other friends had Saturday subscriptions. Each chose one opera and designed a meal inspired by the place or time or theme. The mandate was to create a memorable culinary experience. For example, for Madama Butterfly, Fairhead learned to make sushi and teriyaki chicken. For Salome, the main dish for his Middle East dinner was lamb in yoghurt sauce, but he had desperate times trying to find rose water, which was one of the key ingredients. "We did have a spirited discussion and analysis of the opera before dinner," says Fairhead.
As a humorous operatic sideline, one member of the opera eating club had two cats called Carmen and Eboli. Another had two dachshunds called Kurt Weill and Lotte Lenya. A third had a poodle obsessed with Joan Sutherland. When an LP of the diva was put on the record player, the dog would come running from wherever he was in the house and sit beside a speaker.
The closest an opera fan can get to opera singers is by being in the opera. Nicole Stawikowski is a supernumerary with the COC. She was a whore in The Tales of Hoffmann and is one of the nuns in the upcoming Dialogues des Carmélites. Stawikowski, a U of T English major, is also an aspiring opera singer who studies privately. In fact, when she graduates this year, she is taking time off to concentrate on her singing before applying for a master's degree. She found out about being a supernumerary through a COC tweet.
Says Stawikowski: "The leads in Hoffmann were so nice and talked to me about technique. I've already contacted Adrianne Pieczonka and she's agreed to talk to me during Carmélites." Stawikowski also adds that during Hoffmann, mezzo-soprano Lauren Segal, who has a master's degree in science, helped her pass her astronomy exam. "When I'm in the wings and I hear the orchestra begin to play," she says, "I get tears in my eyes because I'm part of it all — the creation of art for thousands of people."
At 19, U of T biology student Kip Sawyer is new to opera. He started with musical theatre then gradually made the transition to opera. One factor was reading that Rebecca Caine, star of The Phantom of the Opera was singing opera. Sawyer now ushers at the Four Seasons Centre, but he still buys a ticket through the COC's Under 30 program to see a performance. He calls himself a "listening fan" and never goes backstage. "Voices and their emotional expression call to me the most, particularly sopranos and mezzos," says Sawyer. "Opera is a voyage of discovery."
Jazz singer Sophia Perlman has spent 20 years with Canadian Children's Opera Company, first as a singer, and now in charge of school outreach. She also directs the CCOC's two youngest choirs. Perlman is hoping to plant the seeds for fans of the future by creating original operas with the students. "I want to light up their brains as mine was lit up by opera," she says. "I want to convince them that opera is not just by dead people. I want to make opera a vital art form for another 200 years." 
Paula Citron is a Toronto-based arts journalist. Her areas of special interests are dance, theatre, opera and arts commentary.