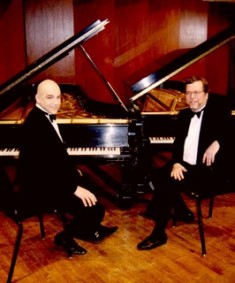 University Settlement House, Toronto's first community-based social service centre, is celebrating its 100th anniversary this year. And to mark the occasion, Toronto's premier piano duo, James Anagnoson and Leslie Kinton, will play a special benefit concert at the Glenn Gould Studio on April 18.

The concert is a fitting tribute to an institution that's long held music as one of its core values. But University Settlement is much more than a music school in the conventional sense. And there's a unique story behind every musician who passes through its doors.
A shy teenage boy lives with his mother in Ontario Housing in the Grange neighborhood. His mother recognizes his special gift for musical expression and takes him to University Settlement for lessons. He qualifies for a subsidy and excels in his studies. He later goes on to study at a prestigious professional school at a renowned conservatory of music.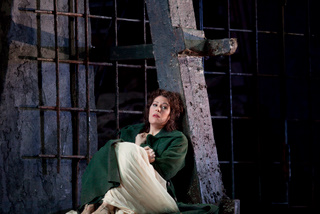 It was almost three years ago that soprano Sondra Radvanovsky walked out onto the stage of the Luna Gala at Roy Thomson Hall and sang the Bolero from Verdi's I vespri Siciliani. The audience was enthralled – and puzzled. Who was Sondra Radvanovsky, and what was she doing at a gala celebrating Canadian opera singers?
"People came up to me asking where I came from," Radvanovsky told me when I spoke with her in New York City this past January.
"I told them that I've been living in Oakville for six years.'" I was sitting with Radvanovsky in a café close to Lincoln Center, where she had sung the opening performance of Verdi's Stiffelio with the Metropolitan Opera the previous night. Just down the street was the apartment she was staying in with her Canadian husband, Duncan Lear.
Radvanovsky hasn't sung here in Toronto again, in concert or in opera. But that is going to change. On March 20 she is giving a concert in Roy Thomson Hall with baritone Dmitri Hvorostovsky, a frequent and much-loved visitor to Toronto. On May 8 she sings the Verdi Requiem with the Grand Philharmonic Choir under Howard Dyck. And next October she opens the new season of the Canadian Opera Company with her first Aida.
Radvanovsky is regarded as the leading Verdi soprano of her generation. Her repertoire is well-stocked with Verdi operas, including what's become her signature role, Leonora in Il Trovatore, which she has performed something like 165 times. Yet she also sings many other operas, ranging from Eugene Onegin and Rusalka to Cyrano de Bergerac, Manon Lescaut and Susannah, with Maria Stuarda and Norma coming up.
After living here for nine years, Radvanovsky is still widely referred to as an American singer. Even the COC describes her as "the stunning American soprano" in their brochure for next season. So I started our interview by asking her whether she felt Canadian in any sense. Her answer surprised – and delighted – me.
One of Toronto's favourite musicians is a Montrealer: conductor and pianist Yannick Nézet-Séguin. And it's been fascinating to watch the rise of this gifted artist, from Toronto's vantage point.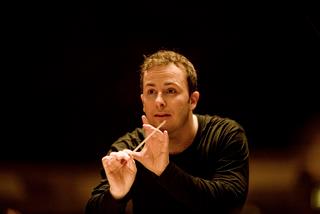 In 2003, Quebec conductor Bernard Labadie suggested that Toronto's Bach Consort invite Nézet-Séguin to conduct Bach's Christmas Oratorio. (According to Toronto Symphony Orchestra bass player, Tim Dawson, who carries much of the responsibility for the Bach Consort, Labadie said, "Yannick is really very good, you know.") In October 2004, he stepped in to conduct the Toronto Symphony at the last minute, replacing an ailing Emmanuel Krivine in an all-Russian programme, which included Shostakovich's Fifth Symphony. This performance, as I recall, was received with unanimous critical acclaim. In March 2005 he returned to the TSO as guest conductor. Of those performances one reviewer wrote: "soloist and orchestra maintained a sensitive balance and the music came through as an integrated whole. Nézet-Séguin deserves the lion's share of credit." He has been back in Toronto every year since then as guest conductor; and in 2007, in the midst of conducting Gounod's Faust for the Canadian Opera Company, was whisked from the Four Seasons Centre to Roy Thomson Hall, to lead the TSO, replacing Valery Gergiev.
In the fall of 1984, the World Music Days of the International Society for Contemporary Music, one of the most important festivals of new music, took place in Canada. Composers from many countries gathered in Toronto and Montreal. Most of them had no idea that the Canadian musical scene was so diverse and accomplished. In the ensuing years, this attitude has changed greatly, and foreign composers are often visitors to our shores. However, this winter and early spring will see an unusual number of internationally famous composers coming to Toronto. In this article, I'll mention just six of our high-profile visitors:Krzysztof Penderecki, Osvaldo Golijov, Gerald Barry, Steve Reich, Zygmunt Krauze and Jonathan Harvey.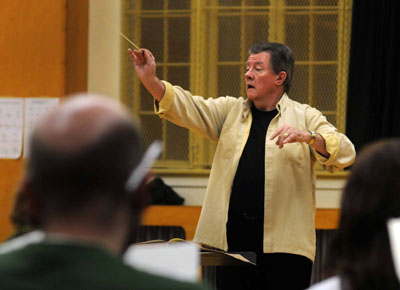 After 37 years as conductor of Kitchener-Waterloo's Grand Philharmonic Choir, Howard Dyck is stepping down at the end of this season. And as he prepares for a January performance of Elgar's The Dream of Gerontius, lovers of choral music can celebrate three specific aspects of this down-to-earth, Manitoba-born maestro: his voice, and his two arms.
Dyck's smooth and affable baritone voice helped make him an ubiquitous sonic presence on CBC radio for over 30 years, hosting Mostly Music from 1976 to 1979, Saturday Afternoon at the Opera from 1987 to 2007, and the programme that he's perhaps most identified with – Choral Concert, from 1980 to 2008. This last programme in particular has been one of the CBC's most solid and high quality offerings. Dyck and his producer (and fellow conductor) Robert Cooper presented a show that illuminated not only the wide range of choral achievement in Canada, but featured broadcasts and recordings of the highest quality from all over the world (Choral Concert continues to run every Sunday morning, with new host Peter Togni).
As for his arms, Dyck has been raising them in the service of Canadian choral performance for as long as he's been broadcasting. Powered by his musical studies in Germany under Martin Stephani at the Detmold Hochschule für Musik, and with Helmuth Rilling at the Internationale Bachakademie in the 1960s, Dyck made his base in 1972 in Waterloo as conductor and artistic director of the Kitchener-Waterloo Philharmonic Choir, now known as the Grand Philharmonic Choir. Although the "K-W Phil" was his principal ensemble, Dyck conducted at various times the Kitchener Bach Choir, London Pro Musica, the Stratford Concert Choir and the Bach-Elgar Choir of Hamilton. He's done a great deal of international guest conducting, and worked with many distinguished choirs and soloists. As well, he's played a special part in the launching and fostering of the careers of Canadian vocalists, most notably Ben Heppner and Susan Platts.