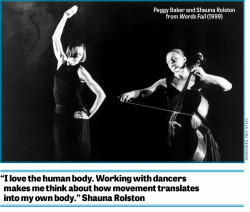 Peggy Baker has a firm principle concerning her choreographic relationship with music. She will not allow tape if the piece was meant to be performed live. If she commissions work from a composer who is a devotee of electronica, that is a different story. "Music is the fastest way to connect to your own physicality," she states, "and it is magical when live music vibrates through your body."
In Baker's new dance show, he:she, which opens at the Betty Oliphant Theatre on March 29, the worlds of acoustic and electronic music come together in compositions by Chan Ka Nin, Heather Schmidt and Alain Thibault. Joining the six dancers will be clarinetist Max Christie, cellist Shauna Rolston, and composer/pianist John Kameel Farah. The latter will provide the improvised score for the world premiere of Aleatoric Duet No. 2.
Not surprisingly, Baker has had a connection with live music her whole life. When she was in training, her dance classes had live accompaniment. Two husbands, Michael J. Baker and Ahmed Hassan, were composers and musicians. When she performed with the White Oak Dance Project, founded by dancer Mikhail Baryshnikov and choreographer Mark Morris, a chamber orchestra toured with the company.
Baker returned from her years in New York with a gift. As a testament to her enormous talent, Morris had given her his solo Ten Suggestions, set to Bagatelles, Op. 5 by Alexander Tcherepnin. To perform the work, she needed a pianist, and that is how Baker met Andrew Burashko. What followed has been many fruitful years of collaboration between live music and dance. Says Baker: "Andrew said that if we were going to work together, we had to choose important music, and I made dances to Brahms, Prokofiev, Poulenc, Philip Glass. Andrew introduced me to a fantastic world of music."
For his part, Burashko admits that he approached his accompaniment for Ten Suggestions as just another gig, but then Baker took him by surprise. "When we met," he explains, "she told me to play the music the way I felt it, at whatever tempi and emotional level I wanted. She put the piano on the stage. I was featured with the dancer. Peggy was literally asking me to step outside the classical music bubble."
Through his work with Baker, Burashko explored the music repertoire beyond what he calls the muscular, flashy stuff that is at the heart of a solo piano career. He is currently artistic director of the Art of Time Ensemble, which presents an adventurous series combining music and other disciplines in innovative ways.
"I grew as an artist," he says. "Peggy gave me a whole new universe. Art of Time could not have happened without her. She exposed me to lighting and staging and a sense of theatre, elements that play a large part in what I do now."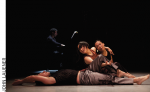 Baker also learned something from collaborating with musicians that has influenced the way she looks at her own approach to choreography. "In dance, we tend to concentrate on the whole piece by playing the music from the beginning to the end, and hope each time we do it better. Musicians practice differently. They pull things apart. They try to discover the architecture of the score. This has led me to look at details like dance in relation to space, the rhythmic expression of the body, floor patterns, dynamics, themes and variations. Musicians aren't afraid to work on one small musical element over and over again. It's an amazing work model."
Bringing the acoustic and electronic worlds together is the new music commission from composer Schmidt which features tape and live cello. It was Rolston who introduced Baker and Schmidt to each other. In the piece, Rolston will be joined on stage by three male dancers.
Baker began the collaboration by telling Schmidt her ideas about the new piece, mandating that the length should be between 20 to 30 minutes. (In fact, it is roughly 24 minutes.) One of her inspirations was the photographs of Edward Weston and his highly eroticized natural world. The title, stone leaf shell skin, comes from Weston 's images.
Calgary-born Schmidt lives in Los Angeles. She and Rolston have a long connection. Their concertizing began in 1998 with Schmidt's Cello Concerto. "Adding in the dance element takes collaboration to a whole new level," Schmidt says. In fact, Schmidt has a dance background, and has worked with choreographers before.
From the Weston photographs, Schmidt took the concept of light and dark. The musical themes embrace both a light tone and a darker one. When Baker sent Schmidt videos of the preliminary dance vocabulary, the composer looked at them, then set them aside. Says Schmidt: "I created musical sketches inspired by the choreography, but not specific to any one dance section, which I sent back to Peggy. In looking at the video again, I mentally matched the music to the dance sections based on what worked best together from my point of view. What's amazing is that Peggy matched the same dance sections with the music exactly as I had done."
It was Baker who wanted an electronic component. After discussions, Schmidt decided on a drone effect, with the cello part played above and below the drone line. To blend with the acoustic cello, the four drone segments are keyed to the open strings of the cello – C, G, D and A.
Rolston has worked with many choreographers over the years and finds it a stimulating collaboration. "I love the human body," she says. "Working with dancers makes me think about how movement translates into my own body. I'm aware of shape and lines. Dancers have such a passion for music that I feel part of the dance. What we are creating at the moment is organic, fresh, direct and vital. New music means sizzling energy. Incidentally, Peggy loves my carbon fibre cello. It's black, shiny and sleek. She likes striking visual effects."
Pianist/composer John Kameel Farah regards himself as Burashko's successor in terms of working with Baker. He was reached in Berlin where he lives for part of the year. If Baker's collaboration with Burashko was discovering great music, with Farah her focus is on a new choreographic direction. The key word is aleatoric.
Says Farah: "The word describes the element of chance, and Peggy is embarking on a series of dances involving chance. Andrea Nann and Sean Ling were given the task of creating solos built on snippets of Peggy's choreography, in other words, of pieces of hers that they have performed. She then shaped the solos into a duet. During the performance, I'm improvising on an electric piano, a synthesizer and a computer with samples. There are three distinct sections, cued by the dance, when I have to do a big shift and change the quality of the sound. My job, overall, is to react to the dancers and bathe them in sound."
At 61, Baker has given up performance except for the occasional appearance. At her March concert, she is performing Paul-André Fortier's solo, Box, la femme au carton, because it was a gift from the Montreal choreographer. For Baker, musicians with their instruments exude honesty, a quality she tries to emulate. "I want to make the same sense with my body, or my dancers' bodies, as the moving bow of a cellist makes sense. There is an authenticity to musicians when they play."
(Peggy Baker Dance Projects runs at the Betty Oliphant Theatre, March 28 to April 6.)
Paula Citron is a Toronto-based arts journalist. Her areas of special interests are dance, theatre, opera and arts commentary.
Dance and Live Music:
Flamenco and African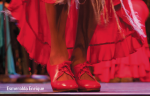 Some forms of dance are unthinkable without live music. For example, flamenco is forever coupled with guitar and cantaor (singer), while traditional West African rituals are anchored in the drums (djembe and doundoun). What is fascinating is that these two very different genres of dance share a rigid structure of performance.
Flamenco is governed by the palo or rhythm. Each palo has a prescribed number of beats or compás. Within the palo, certain beats have musical accents. For example, in the 12-beat soleá, the emphasis is on beats 3, 6, 8, 10 and 12. In the 8-beat farruca, the musical accents are beats 1, 3, 5 and 7.
When the dancer wants to make a change, perhaps to slow down or to speed up, or to bring in the singer, he or she indicates the shift through a pre-arranged llamada or call. A typical llamada might be three sharp beats in succession, which breaks away from the usual palo format.
Like flamenco, West African dance also has prescribed rhythms, each with a name particular to a tribe. For example, among the Sousou people of Guinea, the sofa rhythm originated in the hunt, while the makuru rhythm is associated with celebration. The number of drums is also set by a particular rhythm, and more to the point, the drums are chosen to produce the correct sound.
Nonetheless, within the structure of both dance forms, the dancers and musicians play off each other in a spontaneous artistic symbiosis.
(Compiled from interviews with composer/guitarist Roger Scannura and choreographer/dancer Valeria Scannura of Ritmo Flamenco, choreographer/dancer Esmeralda Enrique and guitarist Nicolas Hernandez of Esmeralda Enrique Spanish Dance Company, Patrick Parson of Ballet Creole and BaKari I. Lindsay of COBA, Collective of Black Artists.)
Paula Citron
Ballet and New Music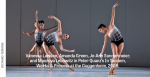 In the ballet world, live music is the rule and not the exception. The audience expects an orchestra in the pit. Karen Kain, artistic director of the National Ballet of Canada, states that while the company is committed to new music, it is much easier if the choreographer uses an extant composition. "New music has to be orchestrated which is expensive and time consuming," she says.
Conductor David Briskin is the National's music director. He outlines the rules concerning new music: "The score has to come before the steps, which means a lot of back and forth has gone on between the choreographer and the composer. There has to be a piano reduction for the studio, or at least, a mini recording. Also, the tempi have to be fixed because the dancers need to know the parameters."
Next season, the Royal Winnipeg Ballet is premiering a new full-length ballet choreographed by Mark Godden about the Aboriginal Truth and Reconciliation Commission. Acclaimed author Joseph Boyden has written the scenario, while Christos Hatzis is composing the music.
As RWB artistic director André Lewis points out, with today's technology, a composer can simulate the sound of an acoustic orchestra on a midi file to use in rehearsals. For its home season, the RWB always has an orchestra. When it goes on tour, however, the dancers perform to tape.
To prepare for that eventuality, Hatzis is creating several mixes. Part of his score incorporates the Northern Cree Singers. Says Hatzis: "When the singers perform live on tour, the tape will just be instrumental. When they are not scheduled, the tape will include the entire score."
How the dancers react to tape after the live experience is interesting. Vanessa Lawson and Tara Birtwhistle are both former prima ballerinas with the RWB. They describe how the tempi never change in a recording, and in order to keep the dance fresh, they had to find ways to work against muscle memory auto pilot. For example, they would hang on to a note, and then speed up running to a lift. The main thing was to not lose track of the music.
Feisty Ballet British Columbia has limited resources and tape is the norm. In order to give her dancers the live music experience, artistic director Emily Molnar has built up a relationship with Vancouver's famed new music orchestra the Turning Point Ensemble. Says Molnar: "It's thrilling for the dancers to have a conversation between music and dance. Live music is a gift."
Their recent February concert featured music by John King, Lera Auerbach and Owen Underhill, the Turning Point's co-artistic director and conductor. The Underhill piece that Vancouver choreographer Wen Wei Wang used for his ballet In Motion was titled Geometry of Harmony.
Says Underhill: "Because it was a concert piece, the musicians couldn't imagine it with dance. Now they can't imagine it without dance. He even put us on stage. We were in a line at the back. His choreography was a revelation. Wen Wei picked up on qualities, rhythms and humour in the music that I never could have predicted. His imagination was enormous. For the ten different movements, he created ten different worlds. "
Paula Citron